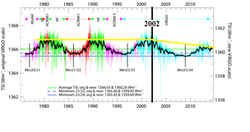 climate change targets impoverished millions of people across the UK and EU. ..How does that square with Reform Judaism's push for social justice or our Jewish heritage of scientific excellence?
Calgary, Alberta, Canada (PRWEB) September 18, 2014
Stating that the case for human-caused climate change is weaker, according to Dr. Judith Curry's testimony to the US Senate on Jan. 16, 2014,. and noting that group-think has never been a hallmark of the Jewish community, the Jewish members and supporters of Friends of Science Society of Calgary are asking Reform Jews to rethink global warming and climate change policies in advance of Rosh Hashanah, the Jewish New Year, as the evidence mounts that global warming stopped 16+ years ago, despite a rise in carbon dioxide (CO2).
Friends of Science are very impressed with the work of Israeli astrophysicist Dr. Nir Shaviv of Hebrew University, who has focused his research on the influence of the solar cycles on climate.
"This is a time of reflection," says Michelle Stirling-Anosh, Communications Manager of Friends of Science. "I believe it is important for our Reform community to critically assess the new scientific evidence."
In addition to her role with Friends of Science, Stirling-Anosh is editor of Israeli dramatherapist Rachel Bar-Yitzchak's groundbreaking work on Post-Traumatic Stress Disorder, and author of several publications on life in Israel and the Middle East.
Norm Kalmanovitch, a professional geophysicist and Friends of Science member points out that global warming stopped before Kyoto was ever ratified.
"The time scale graph of Total Solar Irradiance from the World Radiation Centre in Davos, which is the Swiss government's contribution to the World Weather Watch program, clearly shows a decline in solar irradiance. We likewise see a drop off in temperature trends from 2002. The earth is cooling primarily due to changes in solar cycles that also affect atmospheric oscillations and ocean currents," says Kalmanovitch.
"Norm's research on deconstructing climate change has received personal accolades from physicist William Happer of Princeton," says Stirling-Anosh.
Friends of Science point out that the scientific community has diverse views on climate science, as Roger Pielke, Jr. stated in "Consensus about climate change?" published May 13, 2005 in Science Magazine
"Climate change fears and a push for renewable energy go hand-in-hand claiming to be for the common good," says Stirling-Anosh, "but look at Dr. Benny Peiser's presentation on how climate change carbon reduction targets have impoverished millions of people across the UK and EU as reported by the Financial Post May 13, 2013. How does that square with Reform Judaism's push for social justice or our Jewish heritage of scientific excellence?"
Stirling-Anosh recommends the evidence-based Dec 2013 report "The Global Warming-Extreme Weather Link" by Friends of Sciencec adviser Dr. Madhav Khandekar.
"Khandekar concludes that there has been been no increase in extreme weather events or warming in recent years," says Stirling-Anosh. "If anything, the world is cooling and we are unprepared."
Other climate critics point to the most 'green jobs' having been created to simply support the 'theology' of climate change. Friends of Science "Extracts" of May 2014 notes that The UN's Clean Device Mechanism (CDM) agency has about 150 staff and an annual budget of $32.9 million to administer three projects a month in 2014, compared to 268/month in the peak year of 2012 as reported by Reuters April 25, 2014.
The CDM process was scathingly reviewed by Mark Schapiro in Harper's Magazine of Feb. 2010 in his article "Conning the Climate."
Climate scientist Dr. Roy Spencer, a long-time climate 'consensus' critic, issued a statement about the hypocrisy of climate change advocates spending much of their time flying around the world in his "10 Ways to Tell Tuesday's UN Climate Summit Isn't about Climate."
About
Friends of Science have spent a decade reviewing a broad spectrum of literature on climate change and have concluded the sun is the main driver of climate change, not carbon dioxide (CO2). The core group of the Friends of Science is made up of retired earth and atmospheric scientists.
Contact:
Friends of Science Society
P.O. Box 23167, Mission P.O.
Calgary, Alberta
Canada T2S 3B1
Toll-free Telephone: 1-888-789-9597
Web: friendsofscience.org
E-mail: contact(at)friendsofscience(dot)org
Media: media(at)friendsofscience(dot)org