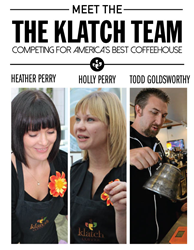 To perfect their performance, Klatch Coffee's all-star team will be holding mock competitions throughout the month of September.
Los Angeles, CA (PRWEB) September 19, 2014
Klatch Coffee is preparing for the America's Best Coffeehouse competition held in Portland, Ore. on October 17-19, 2014. This year's team consists of 2x United States Barista Champion, Heather Perry, Director of Retail Operations, Holly Perry, and United States Brewers Cup Champion, Todd Goldsworthy. This is the first time Klatch Coffee is competing since winning the title in 2012.
To perfect their performance, the all-star team will be holding mock competitions throughout the month of September. Klatch Coffee is inviting everyone to come watch the Klatch Team prepare to compete for the title of America's Best Coffeehouse while providing support and invaluable feedback. Heather, Holly, and Todd will be swerving award winning coffees and specialty drinks on Wednesday, the 24th of September and the 1st of October from 3-5 PM at Klatch Coffee's San Dimas location.
Todd Goldsworthy will also be making the rounds refining his brewing skills. He will be at Klatch Coffee's Rancho Cucamonga location on Thursday September 18th from 8-10 AM. "It's great to be back behind the bar doing what I love most!" says Goldsworthy.
These practices are a unique opportunity for coffee lovers to be a part of the competition and offer words of advice to Klatch Coffee's champion team as they prepare for America's Best Coffeehouse.
About Klatch:
Klatch is an award-winning and renowned specialty coffee company and roaster in Southern California. Since 1993, Klatch has been searching around the world for the finest coffee, sourcing via a Direct Trade model and buying only the top 1% of beans available. Mike Perry, Roastmaster, blends a background in chemical engineering with a love for great coffee to balance science and artistry in achieving the perfect cup. Awards for Klatch include being named 'Micro Coffee Roaster of the Year' by Roast Magazine. In addition, Klatch's WBC espresso blend is the only espresso ever awarded "Best Espresso in the World" at the World Barista Championships. Coffee Review, the world's leading coffee guide, has awarded over 80% of Klatch coffees with a score of 90 points or above. Besides great coffee, Klatch is home to Two-Time United States Barista Champion Heather Perry who finished 2nd in the world.
About Coffee Fest:
Coffee Fest has been celebrating coffee long before coffee was "hot". In 1992, they gathered coffee professionals together in Seattle for their first coffee festival. After several years of hosting thriving consumer events, Coffee Fest turned its focus toward the specialty coffee, gourmet tea and alternative beverage industry bringing retailers, distributers, and manufacturers together for its first retail "trade only show" in 1998. Today Coffee Fest produces three shows annually, strategically positioned in Atlanta, Chicago and Portland. Coffee Fest remains the industry's top-performing show, consistently providing retailers with relevant information to hone their business skills and up their bottom line.
###