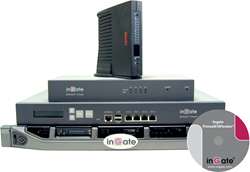 Through RevUp™, customers can add capacity, session licenses and software modules to their Ingate SBC instantly
STOCKHOLM (PRWEB) September 25, 2014
Providing customers with the flexibility to grow their communications solutions at their own pace, Ingate® Systems announced today the Ingate RevUp™ program. Through RevUp™, customers can have capacity, session licenses and software modules added to their Ingate SIParator® Session Border Controllers (SBCs) remotely, for immediate upgrades when customers need them most.
"Ingate has long provided customers the ability to upgrade their SIParator to the limits of the hardware. RevUp™ is a continuation of our commitment to customer success," said Michael Oljemark, CEO, Ingate Systems. "Business moves too fast to wait for a new hardware box or new software to arrive in the mail. With Ingate, customers can access the tools they need when they need them."
Customers purchase the SBC sized right for their business. However, business needs change. With RevUp™, customers can purchase only the SIParator required at the time, then add functionality and/or unlock capacity (to the limits of the hardware) as needed. For example, a company using Ingate's SIParator 51 can upgrade to the larger SIParator 66, a jump from 150 to 1,000 simultaneous calls (or RTP sessions), by phone or email.
Ingate SBCs are available in a range of sizes to meet enterprise needs from home office to large enterprises, handling from 5 up to 8,000 simultaneous calls.
Ingate's award-winning software modules can also be added remotely. Within minutes, customers can have Ingate's SIP Trunking software module delivered and installed on their Ingate SBC. Similarly, they can connect remote workers by adding Remote SIP Connectivity, prioritize voice and video traffic with Ingate Quality of Service or add failover functionality with Ingate VoIP Survival.
For more information:
Ingate's full line of Enterprise Session Border Controllers (ESBCs): http://www.ingate.com/files/productsheets/Ingates_E-SBCs_4page.pdf
About Ingate® Systems
Ingate® Systems develops firewall technology to enable global SIP- and WebRTC-based person-to-person communication to provide the best access for telephony, global real-time and unified person-to-person communication for everyone. With a history in security, Ingate offers enterprises, service providers and carriers elegant solutions for SIP trunking and trusted real-time communications beyond the LAN. Ingate products are used by retail companies, financial institutions, industrial firms, government agencies and small-to-large enterprises throughout Europe, Asia and North America. For more information visit http://www.ingate.com.
# # #