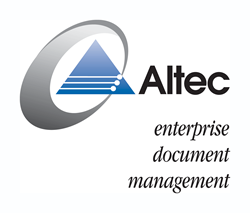 Laguna Hills (PRWEB) September 18, 2014
Altec Products, Inc., a leader in enterprise document management and workflow solutions, announced today that it will partake in the fifth annual McGladrey Dynamics Summit. Nine one-day events spanning the United States and more than three weeks will provide attendees with the tools and tips vital to maximizing their Microsoft Dynamics® GP and SL solutions.
McGladrey is a leading provider of assurance, tax and consulting services focused on the middle market. McGladrey strives to help companies improve by delivering its customers high-quality, customized services such as the 2014 McGladrey Dynamics Summit. The nine day-long events will feature different tracks with educational sessions on Dynamics GP, SL and emerging technologies, McGladrey consultants available for one-on-one conversations and an ISV Expo showcasing independent software vendors (ISV) with valuable add-on products. These various activities will grant attendees numerous opportunities to network with peers and leading industry professionals, gaining insights that will benefit every business department.
The provider of a Certified for Microsoft Dynamics GP (CfMD) solution, doc-link, Altec will attend four of the events: Boston, MA on September 25th; Minneapolis, MN on October 28th; Woodbridge, NJ on November 4th and Bethesda, MD on November 6th. doc-link is tightly integrated to Microsoft Dynamics ERP systems, allowing companies to bring control to existing workflow to increase business growth, productivity and profitability.
Tony Choquehuanca, Altec Sales Director for the Midwest, will attend the event to take place in Minneapolis, and Peri Lynn Silkwood, Altec Sales Director for the Northeast, will attend the events to occur in Boston, Woodbridge and Bethesda. She emphasizes the relevance of the events, stating, "The McGladrey Dynamics Summit is a rewarding experience for all users of Microsoft Dynamics GP and SL. It encourages more efficient and creative ways to utilize Microsoft ERP software and grow business. I look forward to showing how doc-link contributes to these business gains."
To learn more about the 2014 McGladrey Dynamics Summit and/or register, visit http://mcgladrey.com/content/mcgladrey/en_US/events/fifth-annual-mcgladrey-dynamics-summit.html.
About Altec
Altec is a leading provider of Integrated Document Management (IDM) solutions to mid-market companies. For more than 25 years, Altec has provided a wide range of accounting-centric paper to paperless solutions including its flagship product, doc-link™, which enables companies to capture, archive, workflow and route structured and unstructured documents to customers, employees and vendors. Altec's comprehensive solutions include IDM, output management, MICR check disbursement and paper documents that serve more than 13,000 customers worldwide. Altec enjoys strong, collaborative partnerships with ERP solution providers like Microsoft Dynamics to provide the most comprehensive, integrated enterprise document management solution. Altec delivers its IDM solutions through a global network of authorized partners in more than 60 countries throughout the Americas, EMEA and Asia Pacific. For more information, visit Altec at the company website at http://www.altec-inc.com. Follow them on Twitter.com/doclinkbyAltec or call April Blankenship at 1-800-997-9921.
About McGladrey
McGladrey is a leading provider of assurance, tax and consulting services focused on the middle market. McGladrey guides clients through complex business challenges by understanding their needs and bringing together the right team to address them. With more than 7,000 professionals in 75 U.S. cities and access to more than 32,000 people in 100 countries through membership in RSM International, McGladrey can meet your needs wherever in the world you do business.
# # #