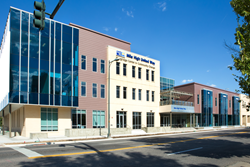 The Mile High United Way Morgridge Center for Community Change represents a long-term investment in the redevelopment of this unique area.
Denver, CO (PRWEB) September 18, 2014
Nearly a thousand community members celebrated the grand opening of the new Mile High United Way Morgridge Center for Community Change in Denver's historic Curtis Park neighborhood on Tuesday, September 16. The event included brief remarks from elected officials and partners, along with food, live music and interactive tours. "Our new headquarters is more than just a building," said Christine Benero, president and CEO of Mile High United Way. "It is a mission-based community hub where we will collectively identify and solve community-wide problems." The building will officially be open to serve the community on September 29.
"As the new gateway to Curtis Park, the Mile High United Way Morgridge Center for Community Change is uniquely positioned to expand opportunities for Metro Denver," said Colorado Governor John Hickenlooper, "as the United Way network continues to improve the lives of families and individuals across the state." For three decades, Mile High United Way was housed in Denver's lower highlands, or LoHi. Their new home was financed entirely by proceeds from the sale of that building ($10 million), along with a capital campaign ($9 million) and new-markets tax credits ($4.5 million), for a total budget of $23.5 million. "Mile High United Way's new headquarters will yield a tangible return on investment," said City Councilman Albus Brooks of District 8, "catalytic in revitalizing our diverse community from grassroots to grass tops." All funds needed to complete the project were raised separately from their community campaign, which directly supports Mile High United Way's work in the Metro Denver area. The 63,000 square-foot facility was made possible in part by a $4 million lead gift from the Morgridge Family Foundation.
Originally founded in Denver in 1887, the first United Way in the country, the organization works to create a strong community network and positive change in the areas of school readiness, youth success and adult self-sufficiency. Their new home promises to enhance this vision and includes ample space for:

CenturyLink's Mile High United Way 2-1-1 Center, housing a free and confidential community referral service that connects callers with resources which provide food, shelter, rent assistance, clothing, child care options, legal assistance and other services to meet basic needs.
Bridging the Gap, Mile High United Way's program helping young adults formerly in foster care address their needs related to education, employment, financial literacy, health and leadership development.
CoBank Leadership Center, 6,300 square feet of conference space for community collaboration, available for free for nonprofit use.
Comcast Digital Literacy Community Center, giving local citizens and nonprofit organizations access to state-of-the-art technology and free training opportunities.
Café United, a full service café operated by Work Options for Women.
Offices for Goodwill Industries and the Metro Denver Homeless Initiative.
"This is the type of sustainable development that is imagined in the Downtown Area Plan," said Tami Door, President and CEO of Downtown Denver Partnership (DDP). Targeting LEED-silver certification from the U.S. Green Building Council (USGBC), the center emphasizes transparency and connectivity. The design team of PCL Construction and Davis Partnership Architects worked closely with Mile High United Way and community stakeholders – including the Landmark Preservation Commission, Arapahoe Square and Curtis Park Neighbors – to arrive at a design that feels aesthetically and historically connected to the neighborhood. "This project has been a true community collaboration," said Dave Espinosa, project manager at PCL Construction.
"We're thrilled to have Mile High United Way's new headquarters as the gateway to our neighborhood," said Joel Noble, president of Curtis Park Neighbors. It's a sentiment echoed by Benero: "The Morgridge Center represents a long-term investment in the redevelopment of this unique area," she said, "and in Mile High United Way's role in partnering with the Metro Denver community to improve the lives of children, families and individuals."
ABOUT MILE HIGH UNITED WAY
Mile High United Way unites people, ideas and resources to advance the common good. For over 127 years, the organization has worked to create a better life for individuals, children and families in our community. They partner with hundreds of local nonprofits, government agencies, policy-makers and businesses to identify and collectively solve community-wide problems. Mile High United Way focuses efforts in the counties of Denver, Douglas, Adams, Arapahoe and Jefferson. Last year 278,293 people were served by Mile High United Way and their Impact Partners who are working to create sustainable community change in the three interconnected areas of School Readiness, Youth Success and Adult Self-Sufficiency – the fundamental building blocks for a good quality of life. For more information, please visit http://www.UnitedWayDenver.org.
MEDIA CONTACTS:
Jen Morris
Director, Marketing & Communications | Mile High United Way
Jennifer.Morris(at)UnitedWayDenver(dot)org
303-561-2259 (o) 303-803-0925 (c)
David Scott
Principal | CONTENT Public Relations
David(at)ContentUniversal(dot)com
888-387-5123 (o) 720-371-9164 (c)
# # #