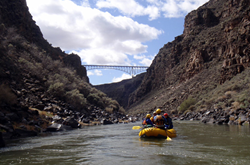 "Fantastic. The guides were full of helpful information and kept us laughing the whole way down the river. I wouldn't go with anyone else after such a great trip."
Taos, New Mexico (PRWEB) September 19, 2014
Los Rios River Runners offers a variety of half day, full day and mild to wild rafting and kayaking experiences on the Rio Grande and Rio Chama in Northern New Mexico. Some of the unique experiences offered exclusively by Los Rios River Runners include informative native cultures feasts and floats and rafting combined with kayaking, hiking, biking, fishing, horseback riding and overnight camping with great food. The company also has the trained staff, guides and equipment to accommodate large families, clubs or business groups for team building and a fun experience they'll never forget.
No rafting company in New Mexico has more experience whitewater rafting in the Santa Fe and Taos area than Los Rios River Runners. The guides are fun-loving individuals, highly-trained far beyond federal requirements and dedicated to providing the safest and best possible rafting tour experience available anywhere. Many of our guests have become friends over the years and return to raft with us every season.
Over the past four decades, Los Rios River Runners has led the field in developing river rafting in northern New Mexico. Rafting access to these spectacular river canyons is severely limited by the Bureau of Land Management in order to preserve the wilderness, and Los Rios River Runners has the widest range of permits and access to more stretches of river than any other company now operating.
Cisco Guevara, the company's founder, was quoted as saying, "Fall rafting is a fantastic outdoor adventure and a photographer's delight." He was asked why people like to raft and ecstatically answered, "Because it's fun!"
For more information, go to the website at http://www.losriosriverrunners.com. Book early by calling Los Rios River Runners at 575.776.8854 or toll free 800.544.1181. Ask about our special 10% discount offers.
https://www.facebook.com/LosRiosRiverRunners
https://twitter.com/losriosrafting