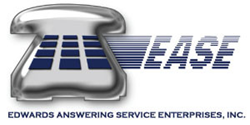 Our longevity is a true testament to our customer focused service and dedication.
New Haven, CT (PRWEB) September 23, 2014
A new business typically needs to survive five years in order to have a chance for success, so one celebrating its 60th Anniversary commands real respect. A leading business resource, Edwards Answering Service announces sixty years of excellence. EASE, was founded in 1954 by Fred and Betty Edwards to serve business' operational and customer service needs.
The company feels its continued dominance in its field is due to their willingness and ability to innovate. Fully taking advantage of technology developments affecting their business as soon as they become available. They say their virtual PBX services allow call information to be backed up so information is never lost, while their database management capabilities ensure customers are treated with the same respect and care they would receive if calls were being handled in house.
The daily service quality is illustrated by two excerpts from client messages which can be viewed in full on the company website: "Edwards has been answering for us since 1984. Our 30 year partnership has given our tenants peace of mind, knowing that someone is there 24/7. As a property management company that services housing for the elderly and disabled, it's critical to have a responsive presence at all times in case anything goes awry…"; and "We have received so many compliments from our clients. They all say the operators are friendly and very patient. Please pass this on to the operators who answer our phones…This is also true when we have called with questions".
In 1954 it cost $15.00 a month to have the phone answered, about fifty cents a day. That price is not feasible for the extensive service clients receive today; but in celebration of their 60 years in business, all new and returning clients will get their first month of service for just $15.00. This special permits complete use of all sections of the recently re-designed website. Information on how to take advantage of the anniversary offer can be found at http://www.edwardsansweringservice.com
Contact Information:
Ron Wendus
800-606-3273
www(dot)edwardsansweringservice(dot)com