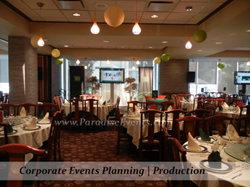 Paradise Events has two distinctive packages for corporate clients; these include the "all inclusive productions" and the "required as needed" package
Vancouver, BC (PRWEB) September 20, 2014
Paradise Events, a Vancouver event and entertainment company, has recently announced that the company will now be offering consultation for corporate clients without any charges. Clients that are looking forward to planning and executing an event for their company can make use of this offer. Paradise Events aims to deliver the service with a clear vision and strategic planning, along with a detail-oriented approach. The company will help its clients choose the right venue, the right vendors and the right on-site production team. Thanks to their ample experience in the field of event planning, Vancouver, Paradise Events can now execute creative events within a small budget.
Paradise Events has two distinctive packages for corporate clients; these include the "all inclusive productions" and the "required as needed" package. The company offers a wide array of services within these packages. The list of these value-adding services is given as follows:

Vision consultation, Floral / Décor
Budgeting, Venue Selection and Timeline
Photo booth rental Vancouver
Floor Plan
Vendor Negotiation
Production Management and On-site Management
Food & Beverage
Transportation
Audio / Visual and Lighting Installation
Advertisement / Media Printing
Entertainment Booking
Security
Photography / Videography
DJ Vancouver
"At Paradise Events we partner and work with you to make your vision come true, regardless of the size or the budget," states a company representative. "Our focus is to save you time and money, take away your stress, and avoid costly mistakes. So you can achieve goals with peace of mind."
About the Company
Started in 1998, Paradise Events is a full-time event management company that has been in business since the past 15 years. They provide their services for major events like festivals (Du Marier International Jazz Festival, Festival Latino, Great Canadian Pet Fair, TD Mid-Autumn Festival, Chinese New Year Festivals), media events, athletic events, fashion shows (Leone Fashion Show, Bear Wear, Cultural Wealth Young Designers of Vancouver, Face West Modeling Scout Show), weddings and nightclub promotions. They also work with wedding clients, corporate events, schools dance and proms. For more information, call (604) 687-6200. For more information, call (604) 687-6200 or log on to http://www.paradiseevents.com/.