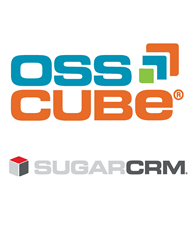 "Larry and I are looking forward to showing the attendees how integrated open source solutions, and an award-winning platform like Sugar can help them solve a myriad of business problems and lower total cost of ownership." Lavanya Rastogi - OSSCube CEO
Hoffman Estates (PRWEB) September 18, 2014
CIOsynergy, a provider of thought leading events, today announced OSSCube and SugarCRM's participation at its upcoming event on September 18, 2014 at the Hilton San Francisco Union Square hotel, in California.
OSSCube is a global solutions provider that specializes in delivering fully-integrated business solutions using open source technologies. With an extensive partner network, and industry leading development teams, OSSCube helps its customers overcome their biggest woes by effectively streamlining business processes, reducing sales cycles, decreasing time to market, and increasing ROI. In 2014 alone OSSCube has received numerous awards and accolades including: being named in the top 100 Best Places to Work®, Ranking #875 on the Inc. 5000 list of Fastest Growing Privately Held Companies in the U.S, Receiving a CMMI L3 appraisal, and meeting the requirements to become an Amazon Web Services Advanced Partner. A SugarCRM Platinum partner, OSSCube has completed hundreds of successful Sugar integrations, including some of the largest in the world.
OSSCube Co-Founder and CEO, Lavanya Rastogi, and SugarCRM CEO, Larry Augustin, will present the audience with a comprehensive strategy aimed toward making you a hero within your company. Learn how to use Sugar, a Gartner Magic Quadrant "Visionary" sales force automation tool, to gain a 360* view of your customers while saving precious budget.
Lavanya Rastogi is a management thought leader, with extensive work and experience in the technology sector. He has over a dozen published research works, and sits on the board of several industry-leading committees and charitable organizations. Larry Augustin joined SugarCRM in 2009 and has been taking the company to new heights ever since. He has done everything from angel investing to sitting on the board of several industry associations. Previously named to Worth's top 50 CEOs, Augustin has experience founding and advising small technology companies from inception to (often) acquisition.
"Strengthening relationships with customers is the most effective way to increase sales performance, and we have the ability to help businesses simplify this process and increase productivity of their sales and marketing teamsters." Said Lavanya Rastogi, CEO, OSSCube. "Larry and I are looking forward to showing the attendees how integrated open source solutions, and an award-winning platform like Sugar can help them solve a myriad of business problems and lower total cost of ownership."
CIOsynergy San Francisco is an ideal opportunity for leading local CIOs and IT executives to network and brainstorm daily hurdles in an unparalleled learning environment. CIOsynergy San Francisco hosts the CIO panel that will take a tell-all position on a panel that explores the direction of enterprise IT, the successes, failures, and celebrations that defined their paths as ultimate IT leaders. We'll gain insight into their vision with the help of moderator Scott Shuster.
Scott's wide-ranged background makes him a unique moderator as he skillfully combines his journalism experience and insightful knowledge of management, economic, social political and business issues like no other. Scott Shuster will command objectivity and impartiality to the CIOpanel discussion at CIOsynergy San Francisco. Participating in the panel will be Tim Silverline, CIO/ CSO – PersonalizationMall.com; Jeff Richards, CIO – YMCA; Howard Sackson, CIO – First California Mortgage Company; Yousuf Khan, CIO – Qualys; and Walter Curd, VP/CIO – Maxim Integrated.
Open to Fortune 500 and mid-market enterprises, CIOsynergy events gather senior executives from the office of the CIO, including Directors, VPs, Chief Architects, CTOs and CIOs.
For more information about or to participate in CIOsynergy San Francisco, visit: http://CIOsanfran.com, or contact Araceli Delgado, Project Coordinator at aracelid@ciosynergy.com or 1.847.278.2213 ext. 899.
To learn more about OSSCube visit OSSCube.com, linkedin.com/company/OSSCube, follow @OSSCube on Twitter, or contact Lauren Katz, Communications Manager at lauren.katz@osscube.com
About CIOsynergy
CIOsynergy provides a platform that brings together the thought leaders of IT through events that incorporate face-to-face meeting opportunities, panel discussions, think tanks, keynotes, and C-suite networking programs.
Previous events have attracted C-suite leaders from companies such as Wal-Mart, Salesforce, Home Depot, Bank of America, Forbes Media, Wells Fargo, Shell, Allstate, State Farm, Career Education Corp, Pepsi, Sara Lee, Kraft, BP, Loyola University, Kaiser Permanente, Mayo Clinic, and Walgreens.
The company operations nationwide and has previously partnered with sponsors such as IBM, 3com, VMware, Unisys, Hitachi, Oracle, SunGard, Dell, Google, Amazon, and HTC among 100's more.
About OSSCube
OSSCube is a Global solutions provider based in Austin, TX with offices in the UK and India. OSSCube delivers integrated mission critical solutions using open source technologies and offers a broad range of services, including: consulting, elastic virtual development resources, mobile, web and custom application development, product support and open source training. OSSCube is proud to be an honoree on the 2014 Great Place to Work® list, one of the Inc. 5000 fastest growing companies in the U.S. (2014), an Amazon Web Services Advanced Consulting Partner (2014), and appraised at CMMI Level 3 (2014).
About SugarCRM
SugarCRM enables businesses to create extraordinary customer relationships with the most innovative and affordable customer relationship management (CRM) solution on the market. By placing the individual at the center of its solution, SugarCRM is putting the "i" in CRM and empowering people at all levels of an organization to better understand and engage with customers. Based in Silicon Valley, SugarCRM is backed by Goldman Sachs, Draper Fisher Jurvetson, NEA, and Walden International. More than 1.5M individuals in over 120 countries rely on SugarCRM. To learn more visit SugarCRM.com or follow @SugarCRM