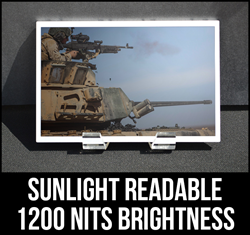 We find the best overall display for a size range, and we make it better.
(PRWEB) September 18, 2014
Touch International, a leading supplier of custom touch screens and enhanced displays, has introduced a new 12.1" WXGA wide-temperature, super-bright industrial liquid crystal display (LCD). The LCD is the latest offering in a line of customized displays as part of the company's 2014 enhanced display and product realization initiative and was developed at the T.I. Engineering and Design facility located in Austin, Texas.
The LCD utilizes ultra-bright, state-of-the-art LED backlights producing up to 1,200 nits of brightness. This is 3-4 times brighter than a standard off-the-shelf LCD monitor or industrial display. The LED back light and patent pending LED drivers have a life expectancy exceeding 50,000 hours of operation. In testing, the company added a projected capacitive touch screen with ruggedized cover glass which was optically bonded to the display and still achieved over 1,000 nits of brightness. The wide 16:10 aspect LCD features 1280-by-800 WXGA HD resolution, 1000-to-1 contrast ratio, 160 degree viewing angle, and weighs 455 grams.
The new display also features an operating temperature range of -10C to +80C for reliable operation in a wide range of environments. "Once again we find the best overall display for a size range, and we make it better," says Bill Linzmeier VP Business Development. "We will continue to develop new offerings as we build our display library while tackling custom displays for unique customer applications." The industrial panel has also been tested for thermal shock, vibration, mechanical shock, and more.
The new display is compatible with Touch International's existing enhancement offerings such as touch panels, EMI shielding, ruggedization, optical bonding, and other value-add services. This display is ideal for use in a wide range of applications including marine, military, transportation, industrial, public use terminals, surveillance systems, amusement parks, kiosks, and more.