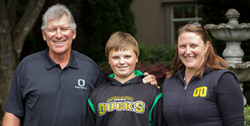 "What football means to me, is the ultimate preparation for life."- Mike Bellotti
Portland, Oregon (PRWEB) September 24, 2014
Kidstarter has partnered with 13 year old Kaulin Achim in an attempt to raise $50,000 for the Oregon Football Association (OFA). OFA reconnects University of Oregon football players through mentoring and coaching local youth. The money Kaulin is raising will go toward OFA camp scholarships for underprivileged kids and bring about bigger opportunities for the children attending camp. Kaulin has partnered with former U of O head coach Mike Bellotti to take on this challenge. Check out his video.
Kidstarter is an international platform empowering kids to serve kids. The nonprofit emphasizes development through service projects locally and internationally. Their goal is that each kid, with the support of a project champion, will walk away confident in his or her ability to raise funds, mobilize volunteers and take an idea from the drawing board to the finish line - all while growing in their desire to give back.
Kaulin has already raised over $16,000 towards his goal as well as spread the word about OFA's incredible work. Kaulin hopes to bring life lessons to children through the great sport of football. Learn more about Kaulins' project at http://www.kidstarter.org.