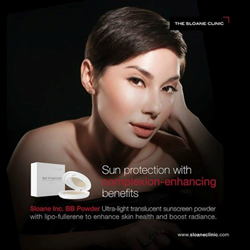 With the introduction of the Sloane Inc BB Powder, this completes our vision of offering clinically proven skin care solutions designed to give your skin the maximal benefits with minimal fuss."
Singapore (PRWEB) September 23, 2014
The Sloane Clinic™, a leading chain of medical aesthetic clinics in Singapore and Malaysia providing advanced aesthetic dermatology and cosmetic solutions now adds a revolutionary BB powder to its impressive skin care repertoire. Specially formulated with super-powered antioxidant Lipo-Fullerene to strengthen the skin's defences against the evil forces of aging, acne and photo damage while delivering a healthy glow simultaneously, this new addition is revolutionizing the way we treat and protect our skin.
Sloane Inc. BB Powder
Acne is perhaps one of the commonest skin condition known, affecting about 80% of adults. While it seldom impacts greatly on the general health of affected individuals, acne can have tremendous untoward bearings on the social and psychological well-being of many. The majority tend to recover from acne without any permanent effects, but a sizeable handful are left with disfiguring acne scars.
Looking effortlessly flawless, while getting acne cleared isn't as hard as it seems. Makeup when applied correctly, and with the help of the right products and techniques, can do wonders to conceal blemishes and unsightly scars, giving a look that is polished yet natural, not "cakey". One of the worst beauty mistakes is to over-apply make-up in a desperate attempt to hide angry looking zits on acne prone skin. When it comes to covering spots and splotches, less is definitely more.
Now these concerns are a thing of a past with The Sloane Clinic's latest revolutionary innovation– The Sloane Inc BB Powder. What differentiates it from the plethora of choices in the market is its antioxidant packed formula and multifaceted properties. The lipo-fullerene fortified BB powder elevates simple cosmetic into a nanotechnology driven all-round pocket skincare with anti- acne, anti-pigment, anti-ageing and sun protection properties to bolster the skin's defensive barrier. Don't be fooled by the weightless feel of this ultra-light translucent powder. The skin protection it provides is indeed, heavy-duty.
According to Dr. Low Chai Ling, medical drector of The Sloane Clinic, "While the beauty industry continues to look for new opportunities, this convergence of make-up and skincare is a burgeoning platform. Some of the best beauty products on the market work doubly hard by offering you the benefits of makeup and skin care. With the introduction of the Sloane Inc BB Powder, this completes our vision of offering clinically proven skin care solutions designed to give your skin the maximal benefits with minimal fuss."
Lipo-Fullerene
The key ingredient found in The Sloane Inc's BB powder is Lipo-Fullerene. Perhaps foreign to most consumers; research has shown that lipo-fullerene possesses powerful anti-oxidative properties and has an anti-oxidative potency over 100 times that of Vitamin C. In addition, as compared to Vitamins C and E, it shows equal potency strength under different environmental conditions such as high heat and harsh ultraviolet radiation; against all types of active oxygen and age- accelerating free radicals.
It is scientifically established that oxidative stress caused by active oxygen or free radicals, have a detrimental effect on healthy skin. The main factor contributing to the oxidative stress of skin is UV radiation. When skin is exposed to excessive UV radiation, age-accelerating free radicals are produced causing pigmentation, wrinkles, and skin irritation to arise. Coupled to that, they also cause sebum oxidation which is responsible for the enlargement of pores and acne. Oxidative damage to sebum is the trigger to the acne formation process. It leads to changes in sebum; creating a more suitable environment for P. Acnes bacteria to thrive. Inflammatory damage is increased and soon an angry, red pimple pops up to the skin.
Researchers discovered that the scavenging effect of lipo-fullerenes eliminated free radicals and active oxygen from cells, further substantiating its clinical efficacy for sustaining healthy, flawless skin. Hence, manufacturers are incorporating nano-sized lipo-fullerenes into cosmetics for their suggested "anti-aging" or radical scavenging properties.
Likewise, the Sloane Inc's BB Powder is built on patented technology of skin actives including lipo-fullerene to help strengthen the skin's defences against the evil forces of aging, it gives skin super powers as it rebuilds collagen, fights photo-damage, while combating acne and clogged pores. All this while it delivers full-spectrum physical sunscreen protection of SPF50 (the PA+++ rating means it shields against both UVA and UVB rays). This versatile, medicated sunscreen powder treats the skin while providing natural, breathable coverage, thus defining it to be an ideal make up innovation for every woman's beauty armamentarium; regardless of their skin type.
The Sloane Inc BB powder comes in two shades (Nude and Healthy Glow) and is priced at SGD$60. This product can be found at all Sloane Clinic branches and also at its online apothecary, http://www.sloaneshop.com. Online prices however, are reflected in US dollars.
About the Sloane Clinic™
The Sloane Clinic™ is a chain of medical clinics, addressing aesthetic concerns for the skin, face and body. Our doctors constantly seek out and fuse the latest non-invasive cosmetic dermatology and cutting-edge plastic surgery techniques, etching our place at the forefront of new technologies. This unique marriage allows us to serve all beauty concerns without prejudice or limitations. In turn, we help patients enhance their appearance, freeing them from the boundaries set by age and society. Whether it is a subtle enhancement or a dazzling makeover, The Sloane Clinic can answer them with our comprehensive armamentarium of beauty innovations, dedicated medical aesthetic team, fully-trained plastic surgery team and wide range of skincare by SLOANE INC. For more information, please visit http://www.sloaneclinic.com
For media queries and visuals, please contact:
Emili Tay
Email: emilitay(at)sloaneclinic(dot)com
Tel: +65 6222 3728
For more information on Sloane Inc products, please visit http://www.sloaneshop.com