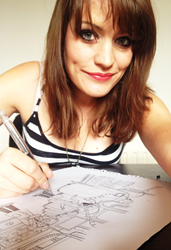 (PRWEB UK) 19 September 2014
This week BioEden the specialist tooth stem cell bank launched BioKidz, an educational but fun tool for children aged between 4 and 9 years.
The characters created by Sue Wilkinson of BioEden have been brought to life by artist-illustrator Cherie Zamazing. BioEden interviewed several artists before finding Cherie who seemed to have a sixth sense in what BioEden were looking for and worked closely with the stem cell bank over a number of weeks. By another amazing coincidence, the author and illustrator discovered they lived on the same street.
The specialist bank harvests and stores the stem cells from children's baby teeth, after they have fallen out naturally. The process, unlike other forms of stem cell harvesting is non-invasive, and is accessible at a low cost. Parents can enrol their children to BioKidz from birth onwards, right up until the tooth wobbles and is ready to fall out from as little as £5 per month.
To view the BioKidz site and illustrated book, go to uk.bioeden.com