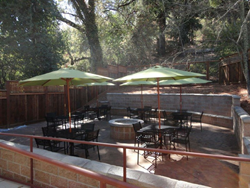 Ukiah, CA (PRWEB) September 18, 2014
Restaurant furniture manufacturer and distributor, Affordable Seating, has helped McNab Ridge Winery update the outdoor furniture for their wine tasting patio by supplying them with outdoor tables and patio chairs.
In the middle of downtown Ukiah and right out of the old West is the stately storefront tasting room of McNab Ridge Winery. Developed by the famed Mendocino pioneering winemaker John Parducci, McNab Ridge creates a wide range of complex and approachable wines with good value.
The tasting room sports a mahogany bar and a back bar. The hardwood floors, oriental carpets and heavy oak tables add a touch of elegance. There is also a patio with outdoor seating for winetasting. Wine gift items and gourmet packaged food items are for sale.
Once known as the McNab Ranch, the winery property, which is a few miles north of the tasting room, was originally homesteaded in 1868 by the Scottish immigrant Alexander McNab. After running his own namesake family winery for years, Mr. Parducci purchased the operation and, along with his grandson, run the winery.
The winery makes a number of red wines, including the rare Pinotage, as well as Petite Sirah, Zinfandel, Cabernet Sauvignon, Merlot and Fred's Red. For the whites they produce Sauvignon Blanc, Chardonnay, Viognier, French Colombard, Muscat Canelli, and Clyde's White.
The co-owner of the McNab Ridge turned to Affordable Seating because of its reputation for durable attractive furniture at low prices for outdoor furniture. "Durable seating was important to her because the patio furniture would have to last for a long time and still look good" Affordable Sales Rep. Dave M. remarked. Affordable Seating has established itself as a leader in the restaurant furniture business because of its many years of working closely with restaurants and its commitment to high quality. Many of its products are made in the U.S.A.
For outdoor seating she bought the Matrix Back Patio Chair with Armrest The patio chairs come with a netted back and seat. The finish is zinc plated with a powder coat finish. Anchors are weighed to the tube of the legs to reinforce stability. The Matrix Back Patio Chair with Armrest ir sells for $45 on Affordable Seating's website.
She also bought the Outdoor Table With Base. The table sets are also netted and include a hole in the center to accommodate patio umbrella poles, Like the Matrix Back Patio Chair with Armrest, the table's finish is zinc plated with a powder coat finish. The square shaped table which includes legs has rolled pipe edges. The outdoor patio tables come in square and round shapes in various sizes. Prices for the Outdoor Patio Tables start at $80.
"The Matrix Back Patio Chair with Armrest & Outdoor Patio Table were just what the owner wanted to complete the elegant look he wanted for his patio seating" said David M., salesperson for Restaurant Furniture.net. "It was also important for her to have a matching set to give him that cohesive look".
To view Affordable Seating's full selection of restaurant chairs, bar stools, booths, tables and patio furniture visit http://www.affordableseating.net or call a customer service representative at (888) 495-8884.
McNab Ridge Winery is located at 2350 McNab Ridge Rd. in Ukiah, CA. They can be contacted at: (707) 462-2423.