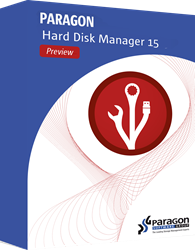 FREIBURG, Germany (PRWEB UK) 18 September 2014
Paragon Software Group (PSG), a leader in data protection, backup and disaster recovery, today released a free 90-day trial of Paragon Hard Disk Manager 15 Preview, a complete data management solution with flexible physical and virtual backup formats for businesses. HDM 15 supports the right backup formats for a variety of tasks including archiving or virtualization. Unlike traditional backup methods, HDM 15 supports a wide range of virtual disk formats, making it ideal for use with virtual machines. The Connect VD (Virtual Drive) feature allows IT administrators to set the partitioning and editing of virtual data media in just the same way they would with regular physical hard disks. VD backup features now provide the full set of backup tools, including file complement, incremental backup and others.
New major features include:

Virtual container replaces the previous backup archive
Recovery Media Builder 3.0
Easy virtualization
MS Hyper-V backup
Incremental, differential and file-based backups to virtual containers
The new backup technology lets users create backups directly in the form of virtual disks in the format they need (VMDK/VHD/VHDX) and, if necessary, later use the P2V Adjust Assistant feature to adapt backups for use with VMware Workstation or other virtualization software. If you create regular incremental backups, for instance, each of these increments can be used as the basis for a virtual machine at any time. No matter what you're using – Oracle VirtualBox, Microsoft Hyper-V, Microsoft Virtual PC or VMware Workstation – Hard Disk Manager 15 can handle the virtual disk formats these hypervisors use, and will also create backups directly in the formats you need. In addition, you'll still have the full range of backup operation functions, including incremental backup, file-based backup, additional file backup, differential backup, and more. If you're focusing more on archiving and want your backup containers to take up as little storage space as possible, then the Paragon Virtual Hard Disk Format (pVHD) is the right choice for you: high compression rates and a network-friendly structure allow exceptionally efficient use of storage and speed up backup operations in the network by up to 10 times.
Availability: A free 90-day evaluation of Paragon Hard Disk Manager 15 Preview is available at http://www.paragon-software.com/landing-pages/hdm15-preview/index.html. The commercial version of Paragon Hard Disk Manager 15 is scheduled for release in fall 2014 and will offer a 30-day evaluation period.
About Paragon Software Group
Paragon Software Group is an innovative software developer focused on two dynamic growth markets. The company's comprehensive product line for the data storage market addresses the needs of data security, storage and management for PCs, servers and networks. A second portfolio of products focuses on mobile productivity applications for handheld devices. Founded in 1994, Paragon Software Group has offices in the USA, Germany, Japan, Poland, Russia and China delivering its solutions to consumers, small business and enterprise clients worldwide through a network of Value Added Resellers, distributors and OEMs as well as online through the company website. Paragon Software Group provides technology to a host of world class companies and partners including Cisco Systems, Dell, HP, Western Digital Corp., ASUS, Seagate, LG Electronics, Logitech, Buffalo, Acer, EMC/Iomega, Siemens, Lenovo, Microsoft, Motorola, Nokia, and more. For more information please visit the company website at http://www.paragon-software.com.