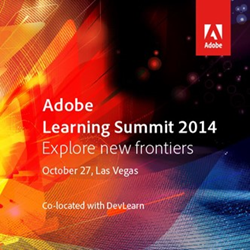 'Touch new heights of success with amazing eLearning' – Pooja Jaisingh
San Jose, California (PRWEB) September 26, 2014
The Seventh Annual Adobe Learning Summit is scheduled for October 27, 2014 at the Bellagio, Las Vegas; and is co-located with DevLearn 2014 conference and expo, hosted by the eLearning Guild. At this event, you'll get a chance to meet Adobe product experts, industry luminaries, and experienced eLearning & education professionals.
Don't miss the opening keynote session by Andy Stefanovich, innovation consultant, corporate curator and provocateur. He will lead a dynamic presentation exploring the inspiration-creativity-innovation continuum and help you drive innovation forward.
You can choose your sessions from four different tracks based on your skill level and interest. The four tracks are:

Eyes Turned Skyward — Getting started with eLearning
Mission to M-land — Odyssey to the mLearning world
Battleship Explorer — eLearning & education
Discover New Suns — Power users special
The registration fee for this one-day event is $395 USD. But you can save $100 on your Adobe Learning Summit 2014 registration if you are also registered for DevLearn'14.
Don't wait! Register now and get a chance to meet the community that is shaping the future of eLearning.