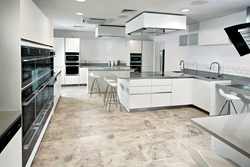 "It was important for us to rise to the challenge and create a floor design to reflect the contemporary theme of the new building," commented Paul Barratt, managing director of Karndean Designflooring.
(PRWEB UK) 19 September 2014
Good Housekeeping, the market-leading women's lifestyle magazine published by Hearst magazines UK, has selected Karndean Designflooring to style its innovative, state of the art Good Housekeeping Institute (GHI) in the heart of London's Soho.
Appointed as the GHI exclusive flooring partner, the UK's market leader in luxury vinyl flooring was tasked with creating a unique and sophisticated floor design to complement the new look GHI testing facility.
Designing and installing both the ground and lower ground levels, Karndean opted for a modern floor design showcasing its newly updated Art Select Stones and Woods, LooseLay Series Two and popular Van Gogh collection.
The stand out features include a curved parquet floor in a herringbone design against matching full length planks in the entrance area, on-trend distressed oak in the GHI dining room and new travertine stone designs in the GHI cookery school.
Keeping in mind LooseLay's acoustic qualities, Karndean specified its distinctive LooseLay textile design in the lower ground testing facilities to help absorb sound and reduce noise levels for the GHI research team working in the 'hot desk' office space.
"Having worked with the Good Housekeeping brand for a number of years now, we were delighted to be selected as their official flooring partner to support them on this exciting new venture," commented Paul Barratt, managing director of Karndean Designflooring.
He said: "It was important for us to rise to the challenge and create a floor design to reflect the contemporary theme of the new building. With our endless design capabilities, we were able to zone out key areas and use our wood and stone designs to offer the wow factor to grab the attention of future visitors."
Designed to be a multi-purpose venue, GHI combines state of the art innovation with practical functionality to position Good Housekeeping at the forefront of domestic innovation and allow the brand to expand its range and depth of testing dramatically, to encompass nursery, beauty and tech products.
With the Good Housekeeping 'Tried, Tested, Trusted' experts already moved into the new GHI testing facility, the doors are set to open to the public as a cookery school and demonstration kitchen from autumn 2014.
Elizabeth Walker, GHI venue manager, said: "It was always our main objective to partner with the most trusted and forward-thinking brands in the business.
"Karndean Designflooring has not only provided us with a stunning floor, they have created a unique design to reflect our personal style and brand.
"With over 1,000 visitors expected per week, we needed our floor surface to be durable, practical and maintain its beauty when put under pressure from high traffic."
For more information visit http://www.karndean.com or http://www.goodhousekeeping.co.uk.
For press enquiries, please contact Claire Ryan, PR Executive at Karndean Designflooring, email: claire.ryan(at)karndean(dot)co(dot)uk, Tel: 01386 820185, Mobile: 07808 772660.
Notes to editor:
About Karndean Designflooring
Karndean Designflooring is a global leader in flooring design with operations in the USA, UK, Australia and New Zealand. By offering a wide range of colours, textures and finishes, our products allow you to create looks that are unique to your home or business and are guaranteed to last. With a passion for creating floors which are both stylish and practical, we're here to help customers find the right floor for their space, needs and unique style.
For more information about the company, and to view its full range of flooring products, please visit: http://www.karndean.com, or follow us on our Facebook (http://www.facebook.com/KarndeanDesignflooring), Twitter Residential (http://www.twitter.com/KarndeanFloors) or Twitter Commercial (http://www.twitter.com/KarndeanComm).
About Good Housekeeping
Good Housekeeping, published by Hearst Magazines UK, is Britain's leading women's lifestyle magazine and consumer champion, combining unrivalled authority, consistent quality, value and entertainment for more than 90 years.
Core to the brand is the Good Housekeeping Institute, a unique consumer research facility where GH experts carry out independent testing on consumer goods, providing Tried, Tested and Trusted advice.
The magazine has a combined print and digital circulation of 414,542. Other platforms include http://www.goodhousekeeping.co.uk, branded cookware and specialist publications including more than 70 books.
Accreditation is offered through the GHI approved logo, which benchmarks consumer products and services against competitors' offerings, and also the GH Reader Recommended scheme, in which panels of readers rate products experientially.
The Editorial Director of Good Housekeeping is Lindsay Nicholson and the Group Publishing Director is Judith Secombe.