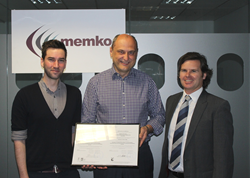 Certification against AS 9100 provides evidence that MEMKO's products and services meet the demanding expectations and standards of the aviation, space and defence sectors
(PRWEB UK) 18 September 2014
MEMKO has been granted AS9100 Rev C and ISO 9001:2008 certification for the quality management system standard for the Aviation, Aerospace and Defence industries by LR Management Systems (LRQA). The certificate of approval was presented during a ceremony held in Melbourne on September 16th to Mr. Miro Miletic, MEMKO Managing Director by Mr. Richard Smith, the LRQA Assessor Manager.
Certification follows ten months of development and implementation and shows MEMKO's commitment to ongoing business excellence and quality. Gaining this international standard in Aviation, Aerospace and Defence industries is a testimony to MEMKO's commitment to business process excellence and strive for ongoing continuous improvement.
With only 42 companies in Australia currently holding the AS9100 certification, MEMKO continues its journey to remain at the forefront of the Aviation, Aerospace and Defence industry sectors.
Commenting on their achievement, Mr. Miletic said, "We are delighted to have received this certification; it's a significant milestone for our organisation, staff and more importantly our customers."
"Certification against AS 9100 provides evidence that MEMKO's products and services meet the demanding expectations and standards of the aviation, space and defence sectors," said LRQA's Richard Smith. "It shows that MEMKO are operating in accordance with internationally agreed and recognised practices for quality management, and is essential to winning contracts worldwide."
Ends
Notes to editors
About LRQA
LRQA is a member of the Lloyd's Register group. LRQA is a leading independent provider of assurance services including assessment, certification, validation, verification and training across a broad spectrum of standards and schemes.
About Lloyd's Register
Lloyd's Register (LR) is a global engineering, technical and business services organisation wholly owned by the Lloyd's Register Foundation, a UK charity dedicated to research and education in science and engineering. Founded in 1760 as a marine classification society, LR now operates across many industry sectors, with over 9000 employees in 78 countries.
Lloyd's Register has a long-standing reputation for integrity, impartiality and technical excellence. Our compliance, risk and technical consultancy services give clients confidence that their assets and businesses are safe, sustainable and dependable. Through its global technology centres and research network, Lloyd's Register is at the forefront of understanding the application of new science and technology to future-proof its clients' businesses.
About MEMKO
MEMKO Pty Ltd is an Australian solution provider of technology, engineering and training, supporting complex and highly regulated industries from Aerospace, Aviation, Defence, Automotive and Energy to Architecture, Engineering, Construction, and Life Sciences.