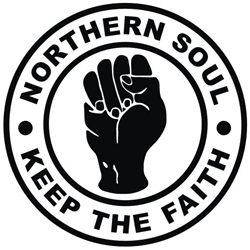 The 'Keep The Faith' motif is recognised as a badge of allegiance for the scene and has been proudly worn... for many years... The device has great meaning to many
Scarborough, North Yorkshire (PRWEB UK) 30 September 2014
Dedicated fans of the Northern Soul scene will be glad to hear that a recent application to register a figurative trademark has been rejected, meaning the iconic 'Keep The Faith' Northern Soul fist motif is free to use for everybody.
Brian Poulton of Indie Apparel Ltd, which trades as Atom Retro online at http://www.atomretro.com, a clothing retail website which specialises in retro and mod clothing, opposed the application for the mark on the grounds that it consisted exclusively of "signs or indications which have become customary in the current language or in the bona fide and established practices of the trade," which in plain English basically translates as the symbol should be free for use by everyone, without one person or company claiming ownership over it.
The case was reference number 0/358/14, which was decided last month by hearing officer, Oliver Morris from the UK Intellectual Property Office. The trademark application in question was reference number UK00002647323. The application was to register a figurative trademark with the text 'Northern Soul Keep The Faith', filed on 27th December 2012 for trademark class 18 goods, which covers imitations of leather, traveling bags, handbags, rucksacks, purses, wallets; flight and shoulder bags. The opposition was for refusal was under section 3(1)(d) of the Trade Mark Act 1994.
Northern Soul is descriptive of a music genre which has heritage dating back to the 1960s and 1970s. Patches and icons bearing the Keep The Faith logo have been used by fans of the genre for decades. Mr Poulton stated, "The 'Keep The Faith' motif is recognised as a badge of allegiance for the scene and has been proudly worn on parkas, bowling bags and t-shirts for many years, meaning the logo is incapable of functioning as a trademark. The device has great meaning to many."
The case was substantiated by evidence provided by many fellow Northern Soul enthusiasts ranging from those selling Northern Soul memorabilia to original Northern Soul DJ's. Dedicated fans of the genre pointed out that Northern Soul is for everybody who is involved in the movement and that no single entity should seize control of the device.
The case was also featured recently on trademark blog, The IPKat
Brian Poulton would like to put on record his thanks to the many fans of the Northern Soul scene who took the time to provide testimonies to corroborate the evidence.
Keep The Faith!
About Atom Retro:
Atom Retro is a UK leading clothing retailer, boasting the largest range of authentic, high quality retro and mod clothing for men and women online. The Atom Retro range is inspired by the Carnaby Street boutiques of the sixties and includes an ever growing list of iconic brands and original, independent designers. Atom Retro is currently celebrating their 10th anniversary this year. Browse Atom Retro's extensive range of retro and mod clothing at http://www.atomretro.com.