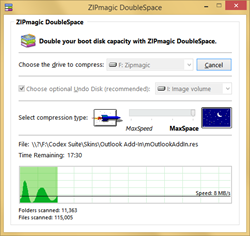 Sydney, Australia (PRWEB) September 22, 2014
ZIPmagic 12.5 is the the first and only disk compression software for Microsoft Windows 8.1 with one-click transparent operation. Storage capacity has been a frequent concern on the smaller capacity Surface Pro tablets, with Microsoft having clearly documented that the 64 GB Surface Pro tablet would only have 29 GB of storage space and that the 128 GB Surface would only have 89 GB. Microsoft built WIMBoot disk compression technology to address this shortfall of storage, which ZIPmagic builds upon with 11 key improvements; bringing the technology to the masses while remaining fully WIMBoot compatible.
Using WIMBoot requires a nearly 5 GB download of the Windows ADK, and an external USB thumb drive to create a "Windows PE" bootable disk. This laborious, pitfall laden preparation step is completely eliminated with ZIPmagic 12.5, which is a very small 19 MB download, and runs in a single click on any Windows 8.1 computer. No extra space is required on the disk to compress, and no external storage is required to hold temporary WIMBoot data at any time – ZIPmagic 12.5 offers true one-click, on-the-fly processing of a disk, even if that disk has as little as only 300 MB of free space left.
Once running, ZIPmagic 12.5 offers four levels of compression – in contrast to only one available with WIMBoot. ZIPmagic 12.5 is also capable of recompressing a disk that has been previously compressed, creating extra space as often as needed. Again maximizing storage space, ZIPmagic 12.5 compresses the entire disk – instead of just the operating system – saving crucial space, and easily achieving compression ratios of 2:1, if not more.
ZIPmagic 12.5 also uses all available CPU cores during compression, working as fast as it can to minimize wait times during disk compression. ZIPmagic 12.5, unlike WIMBoot, compresses BIOS based PCs in addition to UEFI based PCs, supports 32 bit operating systems in addition to 64 bit operating systems, and even runs on mechanical (spinning platter) hard disk drives, in addition to SSD (solid state flash) drives.
In addition to its disk compression miracles and convenience, ZIPmagic 12.5 features a full-fledged archive management suite, supporting 110 archive types including ZIP, and newer compression formats such as ZIPX for JPEGs and 7ZIP for program data. ZIPmagic 12 integrates with Microsoft Outlook; delivering transparent email attachment compression, as well as secure previews for archive attachments in received email.
About ZIPmagic Software
ZIPmagic Software is the innovation leader in the data compression industry. For more information, and a free unrestricted 30 day trial download, please visit http://www.zipmagic.co/doublespace.html.
####
MEDIA CONTACT:
Simon King
ZIPmagic Software
simon(at)zipmagic.co
http://www.zipmagic.co/