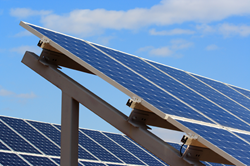 NC has exploded as a key market for solar farm investors.
Asheville, NC (PRWEB) September 18, 2014
NC House Bill 1932 was introduced in 2010 to foster economic growth as related to green energy. Large scale solar farms in the state can qualify for this credit with a $5M ceiling if certain criteria are met which includes being on a site that is at least 100 acres in size. ISS project #47 is a 35 Megawatt solar farm project in Maxton, NC on approximately 200 acres of land and will be filed so that certification as an Eco Industrial Park can be obtained and thus make the investors return on this project even larger than earlier anticipated. Large solar farm projects like the revolving pipeline that ISS maintains are always very popular with investors due to the economics on these deals states representatives of the company.
Solar farms in North Carolina have been sought after by investors for years due to the large amounts of tax credits and incentives that these projects generate. The NC solar market has become the #3 state for solar farms in the U.S. and it's easy to understand why when you look at the economics of these deals if structured properly to utilize the maximum amount of credits and incentives allowed. Rural solar farms in the state are qualifying for the 39% Federal New Markets Tax Credits which provides tax credits to businesses that are adding jobs and income to economically challenged areas. Solar farm projects in the state have historically always had both debt equity partners and tax equity partners unless the entity buying and owning the asset has large federal and state tax appetite.
ISS also notices that many investors and buyers of these large solar farms like to keep the deal structure simple and sometimes involve a large CPA firm to more readily find the tax equity investor for the given size projects. Solar farms in the state are quite commonly yielding buyers double digit returns if the right parties are involved in the project. It is very exciting to see states like North Carolina on the cutting edge of renewable energy and offering so many great incentives to assure the growth of solar in the state. State Senate Bill 3 also provides that at least 12.5% of all electricity produced in the state will be from renewable energy and solar makes up a large portion of that amount. For information on this project or to learn more about currently available shovel ready solar farm projects please call ISS direct at (828)-215-9064.