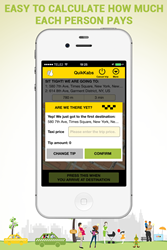 "If taxi riders were willing to share a cab, New York City could [be] unclogging traffic, conserving fuel and fighting air pollution." ~ New York Times
New York, NY (PRWEB) September 23, 2014
Today, QuikKabs launches its beta test in New York City in recognition of the UN Climate Summit 2014. The New York Times wrote, "If taxi riders were willing to share a cab, New York City could [be] unclogging traffic, conserving fuel and fighting air pollution."
CO2 emissions, especially in highly congested streets, such as the ones here in NYC, pose a huge health risk to the local community. Now the NYC community does not have to be a bystander in protecting the health of its people and can contribute to a clean environment. As simple an effort as pooling a ride, any ride, the NYC community will leave the air cleaner to breath now and for grateful generations to follow.
New York City has come together before in testing and challenging times. Facilitating the sharing of a taxi ride, QuikKabs brings the community together again, two at a time hand-in-hand, to face its burgeoning environmental, economic and daily commute challenges. In addition, it puts an end to waiting endlessly for a cab ride!
The NYC community can join hands to share rides especially that QuikKabs is an app available at no charge and not affiliated with any taxi service to maintain its integrity. Riders are free to choose the cab company they prefer without restrictions. Moreover, with a friendly design, QuikKabs can be used in conjunction with Uber, Lyft, Gett, or Hailo for anyone preferring any one of those services. All additional savings are passed on with more of life's comforts.
Powered by TomTom GPS, upon downloading from the Apple Store or Google Play, QuikKabs finds the rider's location. After typing a destination or selecting from thousands of points of interest, right away QuikKabs finds a person nearby who is going in the same direction. That person could be already in a cab looking to share that ride, or looking for a cab to share.
For happy sharing, the QuikKabs app boasts a choice of the gender to share a ride, a selection of sharing the current cab ride or getting a cab to share, an estimated time of arrival with real time traffic data, a notification when the taxi arrives, and calculation of the split fare and tip into the number of passengers in the car. QuikKabs has many features designed for ease, speed and comfort which can be seen here on http://www.quikkabs.com.
The great City of New York deserves cleaner air, less congested roads, and more economic opportunities.
###