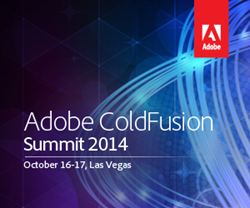 San Jose, California (PRWEB) September 25, 2014
At the summit, attendees will get a chance to interact and exchange ideas with developers, innovators, thought leaders, business strategists and anyone involved in web and mobile applications. They will get insights on how small, medium and large enterprises leverage the power of ColdFusion to add value to their business.
Adobe ColdFusion Summit is packed with sessions that directly relate to what developers do and how they can take it to the next level.
Hidden Gems in ColdFusion 11
Sure, a lot is heard about the big, new features that sometimes seem to impress only a section of developers, but in every release of ColdFusion there are lots of little things that go unheralded and that may be just what attendees have been waiting for or may delight them, and this is just as true in ColdFusion11.
Application Security and ColdFusion 11
Attendees will learn about the new security features in Adobe ColdFusion11 and how to start using them in various applications. Meanwhile, they can catch up on the new security features that were added in ColdFusion10 (in case they are a little behind).
ColdFusion 11 Mobile Features Hands-On
This two-hour session will give attendees a hands-on introduction into the mobile features of ColdFusion 11. Using their own equipment, attendees will go through the mobile development process and have a working application at the end of the session.
Eat, drink, and make new friends. Amid all the talk about tools, technologies, and techniques, ColdFusion Summit is also about fun and good times. Register now and get ready to meet the Adobe ColdFusion product team.