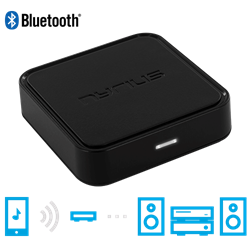 With Songo, music lovers can finally play all their favorite smartphone music wirelessly across their existing home theater systems without sacrificing audio quality"
Niagara Falls, Ontario (PRWEB) September 19, 2014
Nyrius, a leader in wireless connectivity is proud to introduce another exciting addition to their innovative product range with Songo® - a music receiver that allows users to stream music wirelessly from smartphones, tablets, and laptops to their home stereo system using Bluetooth® technology.
The convenient receiver eliminates wires allowing the user to wander freely with their mobile device while they stream music to Songo. Users can control their playlist wirelessly while relaxing on the couch or let their friends take turns sharing their music from their smartphones. Songo uses Bluetooth® 4.0 technology, ensuring that it delivers the fullest frequency range of tunes without any interference, unlike other Bluetooth® devices that can over-compress audio and can lose connection.
"With Songo, music lovers can finally play all their favorite smartphone music wirelessly across their existing home theater systems without sacrificing audio quality" says Deepak Jain, Managing Director of Nyrius.
This convenient device offers an excellent solution for users to enjoy music stored on any Bluetooth audio device including Samsung, Android, iPhone, iPad, iPod, HTC, Amazon Fire, Blackberry, and virtually any of the other 900 million Bluetooth audio devices.
Songo is available for purchase through Nyrius.com
About NYRIUS®
NYRIUS® is a North American-based company that focuses on higher-end lifestyle electronics. Established in 2003 and based in Niagara Falls, Ontario, it markets to both USA and Canada. NYRIUS® products are sold through various distribution channels, which include mass merchants, electronic retailers, warehouse clubs, home improvement retailers, office supply retailers, direct response television, mail order catalogues, direct, online retailers, and through distributors worldwide. NYRIUS® products are on the cutting edge of technology and designed with ease of use, value, and performance in mind.