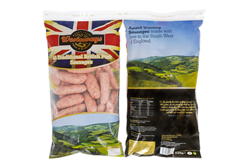 Flexico's Clicky Zip bags are the perfect solution, in conjunction with Westaway's new product range
(PRWEB UK) 22 September 2014
The zipper closing system protects the product effectively from outside contaminants and prevents product loss should bags be dropped. It keeps food fresher for longer once the packaging is opened, helping to cut down on food wastage. In a bid to make life easier for users and consumers, the traditional zipper can now be both felt and heard. The Clicky Zip has a special texture, so it is easier to feel it moving under the fingers as it is being closed. A sound also tells the user that the zipper has been correctly opened or closed, making this a closing system everyone can use, in particular the hearing and visually impaired.
Charles Baughan, managing director of the Devon-based Westaway Sausages Ltd, was seeking an innovative packaging solution for his products, in particular the new cook from frozen range, and Flexico were able to meet all of his needs. Traditional sausage packaging has not lent itself to maintaining product freshness once open, nor has it recognised the quantity of sausages in each pack often exceeds consumer need. Flexico's Clicky Zip bags are the perfect solution, in conjunction with Westaway's new product range. Charles says, "Our new cook-from-frozen Traditional British Pork Sausages provide retailers with a great-tasting range produced with quality and convenience for the customer in mind. Not only do the sausages deliver on quality and taste, they also provide consumers with a convenient option that helps minimise food waste in the home. In the UK, seven million tonnes of food and drink are thrown away every year; this is mainly due to people preparing too much food or not using ingredients before the use by date. Frozen sausages naturally have a longer use by date, which helps to prevent unnecessary wastage and our re-sealable packaging allows consumers to cook the exact number of sausages they need at any given time and keep the rest for a later date." This simple, but effective, ethos works as well in the catering industry as it does in a domestic environment and Westaway's marketing strap line of 'Great Food; Taste It, Don't Waste It,' sums it up perfectly.
Charles Baughan, sizzles with enthusiasm about his company's products and success, "My family has been making sausages for over 100 years, we are proud of what our small team achieves every day. I am sure my grandfather would approve of the time, care and attention we put into our wonderful sausages." The British Retail Consortium accredited company's factory in Newton Abbot, Devon, supply their products to caterers, butchers, delicatessens, foodservice companies, and over 500 retailers in the West Country. But Westaway sausages haven't limited themselves to local supply; they currently export to Asia, the Mediterranean, Falkland Islands and the Caribbean.
Charles Baughan's infectious 'can-do' attitude has spread through every aspect of the company; from new recipes (bespoke if requested) to world-wide export. The export side of the business began after a single website enquiry and has grown to become a commercial success. Charles explains, "Exporting your product takes commitment, it is a long-term venture, and I would suggest it is not for the faint-hearted on occasions. But what exporting has done for us is brought a whole new dynamic to our company. We take an enquiry from East Timor, South Korea or Cape Verde in our stride. We harvest ideas, concepts and real innovation from markets the world over and adapt these for use here at home."
Flexico may work on a much larger scale, but shares values with Westaway Sausages. Flexico controls the whole production process - from the design to the manufacture of technical and technological solutions that will do the job perfectly. Paul Francis, Sales Manager for Flexico UK says, "We are delighted to be working in conjunction with Westaway Sausages and to have provided them with the perfect packaging solution that meets not only consumer demands but has enabled the company to grow its export market too."
So as fresh and flavourful Westaway's sausages sizzle in frying pans all over the world, consumers can remain confident that Charles Baughan and his team will continue to produce tasty, quality products Charles's Grandfather would be proud of, and that Flexico and their award winning Clicky Zip are locking that flavour and freshness in.
Editors Notes:
Paul Francis Flexico UK Sales Manager is available for interviews and comments in respect to this and other Flexico products for more information please contact caroline(at)thewriteimpression(dot)co(dot)uk or call 0345 5272 801
Flexico, a company with more than 60 years' experience in providing technical, industrial solutions for innovative, flexible and resealable packaging brings to the market place five different closing systems including Sensogrip®, Zipgrip®, slider, drawstring and adhesive flap. For more information please visit http://www.flexico.co.uk.