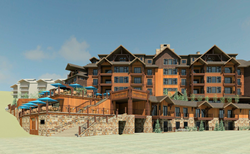 "The Grand Colorado is ... the most exclusive timeshare resort in the Rocky Mountains to date."- Rob Millisor, owner of BGV
Breckenridge, Colo. (PRWEB) September 18, 2014
Breckenridge Grand Vacations (BGV) is unveiling the name and final plans for their fourth resort in Breckenridge, Colorado, The Grand Colorado on Peak 8.
According to Rob Millisor, one of the owners of Breckenridge Grand Vacations, The Grand Colorado is the company's most luxurious resort to date and also is the most exclusive timeshare resort in the Rocky Mountains.
Private offering sales start on Dec. 5, 2014 with exclusive "Founders' Club" benefits offered only to owners and clients who purchase that day. Founding Owners will enjoy a discount on their ownership, free ski passes and other VIP benefits. Ownership interests will be available to the general public starting Dec. 6, 2014.
Construction began in 2013 and the property is expected to open its doors in 2016. Situated at the base of Breckenridge's world-class mountain on Peak 8, the Grand Colorado on Peak 8 is a ski-in, ski-out property located directly adjacent to multiple express chair lifts and the "Breck Connect" gondola that connects the Town to the ski slopes of Peaks 7 and 8.
Located at the exact spot of Breckenridge Ski Resort's original "Berganhof" Lodge built in 1961, the new 75-residence property will celebrate the ski resort's history while helping to shape its future. Over the decades Breckenridge has become a world-renowned ski destination with more than 3,800 skiable acres across five peaks and an historic Victorian town that offers incredible dining, arts & culture and shopping.
"Breckenridge continues to come of age," says Ginny Vietti, vice president of marketing for BGV. "We believe the Grand Colorado on Peak 8 is helping to define the future of Breckenridge. We're staying true to Breckenridge's casual, family-friendly, come-as-you-are vibe but elevating the level of luxury and providing best-in-class amenities with a new mountain modern style."
Designers from TRH (The Ranch House) in Boulder, Colo. selected natural textures, decorations and furniture for the 75 residences that range from suites to 4-bedroom residences.
"It's a new era of slopeside resort ownership," says Millisor. "You don't find these types of amenities at these prices anywhere else. The Grand Colorado will be the pinnacle resort within our resort family."
The amenities planned include an indoor and outdoor aquatics area with 2 pools, 4 hot tubs, outdoor fireplaces and grills, a family fun center, three private theaters, a rooftop garden and also a lobby bar.
"You can't get closer to the ski slopes and the chairlifts than this," says Mike Dudick, another owner of BGV. "The views of the ski slopes and the halfpipe will be unparalleled in Breckenridge. You'll have a front row view." In addition, public areas will offer skiers and guests the opportunity to enjoy the new decks, the Bergenhof Tavern and other facilities at the resort like the Infinity Spa.
"This is an ambitious project that has been designed with 'modern mountain sophistication' in mind and integrated into the hillside with public and private terraced decks and levels to maximize views," says Mike Hayes, vice president of construction for BGV. "Our goal is to get it topped off by mid-summer of 2015 and open Phase 1 by summer of 2016."
Currently, BGV's 114-residence Grand Lodge on Peak 7 is on track to sell out in the next few months. Both Grand Timber Lodge and Grand Lodge on Peak 7 have won multiple American Resort Development Association (ARDA) awards including the ACE Project of Excellence.
For more information about Breckenridge Grand Vacations, visit http://www.breckenridgegrandvacations.com. For private sales offering information, call 866.576.8971.
About Breckenridge Grand Vacations
Breckenridge Grand Vacations is the parent company of the award-winning Grand Lodge on Peak 7, Grand Timber Lodge and Gold Point Resort. Since 1985, Breckenridge Grand Vacations has been providing vacation ownership opportunities for over 20,000 families. The company was the winner of the ARDY Employer of Choice award in 2005 from the American Resort Development Association (ARDA), and was also named as an employer of choice by The Denver Post Top Workplaces, as well as one of the Top Companies by Colorado Biz Magazine. Breckenridge Grand Vacations has also been recognized as one of the most successful, independent developers in the industry. With the motto, " Our family commitment, always Grand Vacations," Breckenridge Grand Vacations defines their success by how much it positively impacts the lives of their owners, guests and employees. Visit http://www.breckenridgegrandvacations.com for more information.
# # #