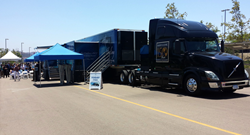 MADISON HEIGHTS, MI (PRWEB) September 22, 2014
WHAT:
Currently commemorating their 150th anniversary of serving humanity, Mayo Clinic is bringing its values and vision to New York City. Mayo's "150 Years of Serving Humanity" tour will make an appearance in Times Square and will also offer free blood pressure screening to visitors. Guests will learn the story of Mayo Clinic — from its humble beginnings as a "clinic in a cornfield" to the most trusted name in healthcare — all in a 1,000 square foot double-expandable semi-trailer.
The exhibit features several multimedia displays that introduce Mayo Clinic's founders and unique Model of Care. By engaging with various exhibit displays inside the vehicle, guests learn more about how technology supports healthcare across distances and the impact of Mayo's research and programs relating to disease prevention.
In a special addition to the Times Square event, Mayo Clinic registered nurses will offer free voluntary measurement of blood pressure via automatic blood pressure tests. As part of the Wounds of War exhibit, U.S. Army Staff Sgt. Patrick Zeigler will share his journey of recovery and how Mayo Clinic helped him return to an independent life after surviving the Fort Hood shootings. Mayo Clinic will also be giving away free "Dr. Jack the Helping Dog" plush toys to visitors who tour the exhibit.
WHEN & WHERE:
Times Square
Broadway Ave. between 42nd and 43rd Streets
Tuesday, September 23rd: 8 a.m. – 8 p.m.
Wednesday, September 24th: 8 a.m. – 7 p.m.
For more information on the exhibit, please visit 150years.mayoclinic.org or follow @MayoClinic on Twitter. Additional images are available upon request.