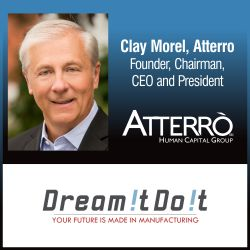 Manufacturing is the backbone of the economy and we are proud of our new partnership with Dream It Do It for the future of Minnesota and for the US as a whole."
Minneapolis, MN (PRWEB) September 18, 2014
Pro Staff and Ware Technology Services, two staffing and recruiting firms within the Atterro Human Capital Group, proudly announce their joint donation to Dream It Do It MN and the establishment of a new partnership to encourage the pursuit of manufacturing careers throughout Minnesota.
The donation was initiated by Pro Staff and Ware in conjunction with their sponsorship of Minnesota Business magazine's 2014 Manufacturing Awards. A check will be presented on behalf of the award nominees and finalists at the awards event on September 23, 2014, in Minneapolis.
This is the first donation ever received by Dream It Do It MN from a staffing agency and has opened up new possibilities for funding of its efforts by other Minnesota businesses in the future. Both Pro Staff and Ware are now seeking more opportunities to partner with Dream It Do It in other states where they do business across the US.
As awareness of next generation manufacturing grows, new attention is being paid to the role of a skilled workforce in the industry's success, as skilled workers are critical to growth and innovation. Today's manufacturing is still a powerhouse in the U.S. economy, and through changing the current perception of manufacturing, Dream It Do It's goal is to promote rewarding careers in manufacturing.
In response to the offer of partnership and financial support, Jaimee Meyer, Assistant Director of Dream It Do It MN, said, "Thank you so much for reaching out and recognizing our mission and efforts. I feel this partnership will enhance Dream It Do It's overall reach and impact. This partnership supports Dream It. Do It.'s goals to become the primary information resource for modern manufacturing and career opportunities in the industry. Partnering with a staffing agency supports our mission to build a new pipeline of skilled workers for manufacturing businesses hiring needs."
Clay Morel, President and CEO of Atterro, said, "We are committed to career development for people, to improve their opportunities and to ensure the success of their employers. Manufacturing is the backbone of the economy and we are proud of our new partnership with Dream It Do It for the future of Minnesota and for the US as a whole."
Dream It Do It, led by 360-degrees Manufacturing and Applied Engineering ATE Regional Center of Excellence, collaborates with industry members to promote careers in manufacturing in Minnesota. To learn more about this initiative, visit dreamitdoitmn.com or contact Jaimee Meyer at 218-755-2206 or jmeyer(at)bemidjistate(dot)edu.
360-degrees Manufacturing and Applied Engineering ATE Regional Center of Excellence is a consortium of 13 institutions led by Bemidji State University and includes St. Cloud Technical and Community College and 11 other technical and community colleges. 360-degrees is designing a 21st century education system that prepares individuals to have rewarding careers in manufacturing and meets the dynamic, evolving needs of the region's manufacturing employers through an enhanced pipeline, industry-driven curriculum, and authentic assessment. 360-degrees is a member of the Minnesota State Colleges and Universities system and received a National Science Foundation grant in 2012 to become an Advanced Technological Education Regional Center.
Atterro Human Capital Group offers interim staffing, search and SmartSourcing services to local, regional and national customers. Atterro's experienced industry professionals utilize the latest research, recruiting technology and assessment tools to serve clients through its six specialty brands—Blue Edge RPO for Recruitment Process Outsourcing, Digital People for Creative, Interactive and Marketing, Hunter Hamilton for Finance and Accounting, Pro Staff for Administrative and Light Industrial, Technical ProSource for Information Technology, and Ware Technology Services for Engineering. Visit http://www.atterro.com.
Contact:
Susan Y. Rylance
Senior VP - Marketing
email: Susan.Rylance(at)atterro(dot)com
ph. 612‐373‐2600
Atterro Human Capital Group
651 Nicollet Mall, Suite 525
Minneapolis, MN 55402
http://www.atterro.com