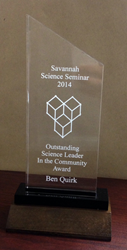 Savannah, GA (PRWEB) September 18, 2014
Ben Quirk, CEO of Quirk Healthcare Solutions, was recently awarded the Alex Ormond, Jr. Leadership Award by the Savannah Science Seminar in recognition for the firm's contributions toward improving healthcare and wellness throughout the nation and especially in Savannah.
"I am humbled and honored to receive this award," said Ben. "The Savannah Science Seminar is an amazing program that has been around for 65 years and multiple generations have gone through the program," he added. Eleventh graders from private and public schools within Chatham, Effingham, and Richmond Hill go through a rigorous testing process and only 35 are selected for the seminar. These students go through an intensive yearlong training course in all aspects of science including biology, medicine, aerodynamics, and architecture. In the process, students dissect human hearts at the local hospital, build model airplanes at Gulfstream and put them through real life scenarios to see which will fly, build underwater aquatic robots, and build and launch rockets up to 11,000 feet in the air. The top three students in the program receive scholarships.
About Quirk Healthcare: Quirk Healthcare Solutions specializes in EHR strategic management, workflow optimization, development, and training. Quirk specialists guide clients through the rules and regulations generated by the Affordable Care Act (ACA), the American Recovery and Reinvestment Act (ARRA), and other government initiatives. The company also advises on industry trends such as consolidation and increased customer awareness. Quirk clients have enjoyed remarkable success, including being awarded the Medicare Advantage 5-star rating by the Centers for Medicare & Medicaid Services (CMS).
For more information, please visit: http://www.quirkhealthcare.com.