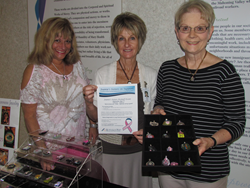 YOUNGSTOWN, Ohio (PRWEB) September 18, 2014
Throughout their lives, sisters support each other. They encourage each other, cheer each other on, celebrate their achievements and accomplishments together, and lend helping hands. They share tears and laughter, heartache and joy.
Joanie's Sisters in Support, a support sorority, does all of that and more for women joined together by their battles against breast and ovarian cancers – a sisterhood of survivors.
The group, which was organized in June, meets once a month at the Joanie Abdu Comprehensive Breast Care Center. A budget – to pay for speakers, refreshments, T-shirts, etc. – is nonexistent. Or was, until Sue Malkoff, a local jewelry artist, offered to make and sell cancer-related jewelry and donate a portion of the proceeds to support the group.
Malkoff's jewelry – glass and metal pendants – is ordinarily sold in galleries such as the gift shop at the Butler Institute of American Art and Trumbull Art Gallery.
A psychotherapist in private practice, Malkoff was inspired to create a special selection of cancer-related jewelry by her patients, many of whom seek her help in dealing with serious illnesses such as cancer.
Dealing with the diagnosis of a potentially life-threatening illness, treatments that can be extremely difficult, financial hardships that come about when a bread-winner is ill or misses work to care for a loved one are issues that affect many of the families who seek her help, Malkoff explains.
Making jewelry is a relaxing activity that enables her to regenerate her own energies, Malkoff says. Developing an exclusive jewelry line to benefit cancer patients and their families serves both her own and philanthropic purposes.
Embellished with pink ribbons, words of hope, love, survival and courage, the jewelry was introduced during a special sale outside the cafeteria at St. Elizabeth Health Center in Youngstown Aug. 7, and will be available from 8:30 a.m. until noon Sept. 26 at St. Joe's at the Mall, from 9 a.m. until 4 p.m. in the lobby at St. Joseph Health Center Oct. 24, and at the fall craft show Nov. 21 at St. Elizabeth Boardman Health Center.
PHOTO CAPTION:
Jewelry artist Sue Malkoff, left, Kathie Marini, community liaison for the Joanie Abdu Comprehensive Breast Care Center, and breast cancer survivor Diane Berardi display jewelry that will be sold to benefit Joanie's Sisters in Support, a support sorority for women affected by breast and ovarian cancers.
About Humility of Mary Health Partners
Humility of Mary Health Partners is an integrated health system in the Mahoning Valley, which encompasses the Youngstown/Warren metropolitan area – Mahoning, Trumbull and Columbiana counties in Ohio. It is a key market of Mercy Health (formerly Catholic Health Partners) in Cincinnati, the largest health system in Ohio and one of the largest Catholic health systems in the United States. HMHP provides a full spectrum of health care services – acute inpatient and trauma, outpatient and ambulatory, rehabilitation, behavioral, emergency and urgent care, primary care physicians in Patient-Centered Medical Homes, specialist physician care, home health, home medical equipment, long-term care and hospice care, as well as the HMHP Foundation. Major sites are St. Elizabeth Health Center, St. Joseph Health Center, St. Elizabeth Boardman Health Center, HMHP Physician Associates, HMHP Care Network, The Joanie Abdu Comprehensive Breast Care Center, HMHP Cancer Care Centers in Warren and Boardman, Howland Surgery Center, St. Elizabeth Austintown Emergency Care, St. Joseph Andover Emergency Care, HM Home Health Services, HM Durable Medical Equipment, HM Home Pharmacy Services, The Assumption Village, Humility House and Hospice of the Valley. Learn more at http://www.HMpartners.org.
###