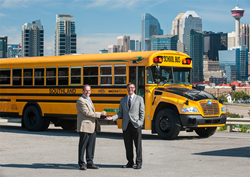 We have an abundance of transportation providers looking to make the switch to propane autogas. It's better for the students, the taxpayers and the environment. It's a win-win solution.
Calgary, Alberta (PRWEB) September 18, 2014
Southland Transportation recently added 101 Blue Bird Propane Vision buses to its already impressive propane autogas school bus fleet. Districts in Canada are specifying the environmentally friendly and proven technology due to the superior cold weather operation, reduced maintenance and clean emissions. Southland Transportation, an environmentally conscious company, is a subsidiary of the largest family-owned pupil transportation provider in Canada with operations in school, motor coach and public transportation. The new Propane Vision buses will transport students from the Calgary Board of Education (CBE) and Medicine Hat School District No. 76.
Southland Transportation is no stranger to alternative fuel technology. It first started operating Blue Bird Propane Vision buses in 2007 with tremendous operational results. The company's corporate commitment to the environment can be seen throughout all facets of the organization from anti-idling programs to recycling programs. Southland Transportation's environmental policies also play a factor with onsite fuel options. With non-toxic properties and an uncomplicated set-up, propane autogas is the only fueling infrastructure that Southland Transportation permits on its properties.
"Our Propane Visions have been a proven performer. Due to the clean-operation and straightforward technology, I would estimate that each propane bus annually saves us about $500 in basic maintenance costs," said Tom Jezersek, vice president at Southland Transportation. "As a former licensed mechanic, I am well-versed to the advantages of propane autogas. These buses are safe, reliable and immediately start in temperatures as low as minus 30 degrees Celsius, without the use of oil pan heaters or block heaters. Our drivers also enjoy the buses as they are quiet, powerful and come to temperature very quickly. Propane autogas is an excellent choice for districts."
The Calgary Board of Education, located in Calgary, Alberta, transports over 3,400 students to 65 area schools utilizing Blue Bird Propane Vision school buses. Already operating 32 Propane Vision buses with great success, Southland Transportation recently added an additional 59 propane-powered school buses to the district's fleet bringing the total Propane Vision fleet to 91. The deployment of new propane autogas buses complements the district's progressive EcoSite initiative. The EcoSite initiative is aimed at encouraging and recognizing environmental learning with support for education and action programs targeted to reduce CBE's environmental footprint. The Propane Vision buses are projected to lower hydrocarbon emissions by 80 percent.
"The Calgary Board of Education is committed to teaching our students to develop good citizenship behaviors and lifelong environmental habits," said Ron McArthur, manager of transportation for Calgary Board of Education. "The use of these propane buses supports our commitment to the environment by providing a quieter ride with fewer emissions that is also reliable during the winter."
Propane's proven performance played a part in Medicine Hat School District No. 76's choice to deploy a dedicated propane fleet. Located in Medicine Hat, Alberta, the district and Southland Transportation transport 2,500 students to 14 schools with 42 Propane Vision buses. When selecting buses for its new fleet, the district specifically required buses powered by propane autogas due to its clean emissions, exceptional cold weather performance and easy maintenance.
"Both teachers and students have commented about the cleaner air coming from the new Propane Vision school buses," said Robert Olson, transportation coordinator with Medicine Hat School District No. 76. "We initially considered propane autogas due to the environmental benefits and pleasantly learned about the Propane Vision's stellar track record with other cold-weather districts. Our new buses provide clean air, a quiet engine and easy fueling. We look forward to operating them as the school year progresses and temperatures drop."
"Blue Bird is delighted that Southland Transportation is expanding its fleet of our industry-leading propane-powered buses as a result of the significant benefits experienced to date with propane," said Phil Horlock, president and CEO of Blue Bird Corporation. "Blue Bird's propane-powered bus is great value for so many reasons and we commend Southland Transportation, the Calgary Board of Education and Medicine Hat School District No. 76 for their commitment to environmentally friendly initiatives."
"Districts and contractors in Alberta are achieving substantial savings and superb operation with Blue Bird's Propane Vision and Propane Micro Bird," said Jason Kirkman, general manager of Kirkman Bus Sales. "We have an abundance of transportation providers looking to make the switch to propane autogas. It's better for the students, the taxpayers and the environment. It's a win-win solution."
The Blue Bird Propane-Powered Vision and Micro Bird, equipped with the ROUSH CleanTech propane autogas fuel system and a Ford 6.8-liter engine, meet all Canadian Environmental Protection Agency certifications. The buses, which are fully customizable, feature 60 percent less carbon monoxide, 12 percent less carbon dioxide, 20 percent less nitrogen oxide and up to 25 percent less greenhouse gases than gasoline. Propane autogas costs about 35 to 40 percent less than gasoline and 50 percent less than diesel, and installing a propane autogas refueling station costs less than any other transportation fuel.
To learn more about Blue Bird's line of propane autogas buses, please visit http://www.blue-bird.com or visit your local Blue Bird Dealer.
Photos available upon request.