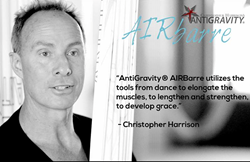 AntiGravity AIRbarre utilizes the tools from dance to elongate the muscles, to lengthen and strengthen, to develop grace.
New York, NY (PRWEB) September 18, 2014
AntiGravity® Fitness (creators of the Aerial Yoga and Suspension Fitness genres) are proud to announce their newest fitness technique: AntiGravity® AIRbarre. AntiGravity AIRbarre is a fitness workout that transforms the Harrison AntiGravity® Hammock into a moving ballet barre. Incorporating a majority of the moves from the ballet barre, this innovative workout is sure to transform how barre techniques evolve, as classes also include AntiGravity's signature zero-compression inversions.
This ground-breaking technique is the first and only "aerial barre" method. The form was created by movement innovator Christopher Harrison, a former Broadway dancer and award-winning Aerial Choreographer. Juilliard graduate and former principal ballet dancer Alexander Schlempp, AntiGravity's managing partner, maintains that, "The technique is revolutionary and the benefits far outweigh any of the other barre methods." AntiGravity Master Instructor, Lorianne Major assisted Mr. Harrison in this latest AntiGravity technique with playful class designs that inspire movement.
Harrison has freely adapted and merged his vast knowledge of dance, fitness and the aerial arts into an extensive technique on his Harrison AntiGravity® Hammock invention. AntiGravity® AIRbarre raises the barre and makes aerial dance conditioning exercises accessible to the everyman.
Dance training develops ideal bodylines through the toning and lengthening of muscles, while also developing balance and agility. First hybridized by Lotte Berk in the late 1950's, recently many new methods of ballet barre training have found their way into fitness studios. Participants notice the many benefits of training physical grace through discipline and repetition. AntiGravity's version, AntiGravity® AIRbarre, challenges the body and mind beyond the vertical plane and up into the air.
"Dance classes always start at the barre with pliés. As a disciplined Broadway dancer and guest artist with the Metropolitan Opera Ballet for numerous years, this classical form of training has been deeply ingrained into my psyche. Transferring much of the movements to a silk hammock that allows for 3d movement on multiple planes has been thrilling. With the help of the Harrison AntiGravity Hammock to help force correct alignment, the technique is both accessible to non-dancers and challenging for accomplished dancers, giving them an upper body workout and more airtime in jumps!" Christopher Harrison, creator
About AntiGravity® Fitness: Christopher Harrison founded AntiGravity® Entertainment originally as a dance company that utilized acrobatic arts as a movement vocabulary in 1991. All AntiGravity Fitness techniques are derived from the performance team's warm-ups and aerial conditioning exercises. Harrison is best known for bringing contemporary aerial arts to Broadway, rock tours and TV award shows and for creating the aerial yoga genre. AntiGravity is now widely considered America's premier aerial acrobatic entertainment being the President's Choice for his Inauguration. AntiGravity® Fitness, founded in 2007, first launched AntiGravity Aerial Yoga forging an entirely new path and creating a new genre. AntiGravity® AIRbarre is now Harrison's seventh fitness technique.
Whether you are a fitness enthusiast eager to try to new forms, a dancer who wants to explore the air or an aerialist who wants to work on lovely lines, AntiGravity® AIRbarre will get you up and flying! Classes are now offered in most AntiGravity licensed studios in over 50 countries. Go to our website to find a class near you.