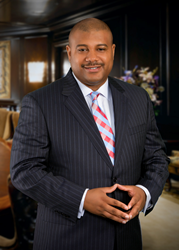 Many students and professionals get so caught up in their academic and professional careers that they mistakenly think they don't have time to help others. The truth is every effort, no matter how great or small, helps.
Washington, DC (PRWEB) September 18, 2014
Terry Eaton, firm partner and head of the White Collar Defense & Government Investigations Practice Group, will speak on a panel at Duke University School of Law as part of the 3rd Annual "Public Interest Careers Speaker Series" on Friday, September 19, 2014 at 12:15 p.m. in Durham, North Carolina. Terry is a 2002 graduate of Duke University School of Law and a native of North Carolina.
The panel discussion will be the second in the law school's four-part series and will focus on careers in criminal law. The distinguished panelists come from a variety of backgrounds in the area of criminal law, including the U.S. Attorney's Office, Public Defender offices, and private practice. The speakers will share insights about their careers in public service and the contributions they have made to the legal field. Terry Eaton, who worked for six years as an Assistant United States Attorney in Washington, DC prior to joining the white collar criminal defense bar, will be joined by Leslie Cooley, Assistant United States Attorney for the Eastern District of North Carolina; Jason St. Aubin, Assistant Public Defender in Mecklenburg County, North Carolina; and Meredith Nicholson, criminal defense attorney and founding partner at Nicholson Pham in Durham, North Carolina. The panel discussion will be followed by questions from the Duke Law School community and a reception hosted by the law school. The speaker series is co-sponsored by Duke Law's Public Interest Advising Office, the Office of Public Interest and Pro Bono, and the Government and Public Service Society.
"Helping students gain a better understanding and appreciation for the work we do as prosecutors and as criminal defense attorneys is vitally important to ensure future generations of attorneys will share the same dedication to public service that my colleagues and I share," Mr. Eaton said. "I'm also really looking forward to returning to my alma mater and sharing with the students the challenges and the rewards that I have experienced throughout my career."
Mr. Eaton's legal experience spans more than 12 years. He has served in a variety of legal capacities -- from working as a judicial law clerk for the Honorable James S. Gwin, United States District Court Judge for the Northern District of Ohio, to serving as an Assistant United States Attorney in the District of Columbia, and from interning at the White House to practicing law in the private sector both at large law firms and as in-house counsel at a regional public utility. All of this has helped him develop a thorough understanding of the legal system and the value that a career in public service provides. In addition, Mr. Eaton can discuss with students the importance of civic responsibility by drawing upon his dedication to various volunteer service programs, including Catholic Charities of Washington, DC and programs that support incarcerated youth and young, single mothers in the DC region. Mr. Eaton is living proof that it is possible to manage a successful career and do good works in the community.
"Many working students and professionals get so caught up in their academic and professional careers that they mistakenly think they don't have time to help others," Mr. Eaton added. "The truth is every effort, no matter how great or small, helps. The benefits are felt by not only the direct recipients but our communities and country as well."
###