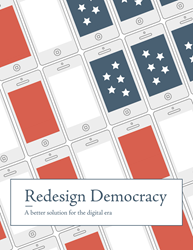 More than just old, America's democracy is also obsolete. The government is simply not working when we consider the U.S. Congress has its lowest approval rating ever – under 10%!
(PRWEB) September 18, 2014
Arab Spring, the wave of political demonstrations and protests that swept through the Arab world over the past few years, illustrated people's dissatisfaction with their rulers and the status quo through harnessing the raw power of internet-based technologies. Social futurist Dirk Knemeyer, co-founder of Involution Studios, says the power to change our government is at our fingertips.
Here in the US, a government that was created 225 years ago (with 2,000 years of precedent) has remained virtually static and stagnant since our forefathers created the Constitution. This outdated concept of representative democracy continues to roll forward despite our living in a very different world.
Knemeyer believes the power of government must be in the hands – or at the fingertips – of individual citizens in order to create lasting, impactful change. Dirk has spoken at TEDx South by Southwest, Transhumanism+ and other venues around the world. In 2014 he co-founded a software design consultancy where he spent more than a decade working with leading technology companies like Apple, Oracle, Microsoft, Shutterfly and PayPal.
Dirk's latest piece, Redesigning Democracy, explores what an American Spring might look like if we coupled the incredible power of the technology in our pockets with a desire to truly effectuate change.
Redesigning Democracy is available as an e-pub, PDF and audio book if interested in exploring other versions.
Involution studios crafts exceptional software for progressive companies. For more information, visit http://www.goinvo.com