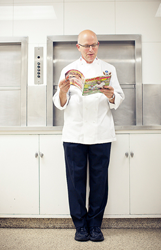 We could not think of a better way to demonstrate how cooking can be fun and easy for kids than to have these two White House veterans join forces in an interactive and engaging demonstration
Watertown, MA (PRWEB) September 18, 2014
ChopChop founder Sally Sampson is challenging former White House Pastry Chef Bill Yosses and Yonah Kalikow, 10-year-old Massachusetts's winner of the First Lady's Healthy Lunchtime Challenge, to come up with a twist on hummus, the classic Middle Eastern bean dip. Watch as Bill and Yonah cook side-by-side and demonstrate live on stage how kids can create their own healthy dips at home. The cooking demonstration will take place at 10 AM at the third annual Let's Talk About Food Festival in Copley Square on September 27, 2014.
"We are thrilled to be part of this year's Let's Talk About Food Festival – a one-of-a-kind event on all things food," says Sampson. "We could not think of a better way to demonstrate how cooking can be fun and easy for kids than to have these two White House veterans join forces in an interactive and engaging demonstration."
Yosses recently joined ChopChop Kids as Director of the ChopChop Cooking Lab, an initiative to introduce hands-on cooking instruction and nutritional literacy as a way to eradicate the childhood obesity epidemic. Yosses was inspired to link healthy food with delicious food while working with First Lady Michelle Obama and her Let's Move initiative.
10-year-old Kalikow is the Massachusetts winner of the Healthy Lunchtime Challenge, an annual recipe contest for 8-12 year olds from the White House and Epicurous.com. Kalikow's winning Quinoa Lentil Burgers with Kale Salad was selected from over 1500 entrants. Kalikow, along with the other winners from across the country, were invited to a Kids' State Dinner at the White House. The full list of the 2014 Healthy Lunchtime Challenge winners and a free downloadable and printable e-cookbook of the winning recipes is available at letsmove.gov; recipechallenge.epicurious.com; usda.gov; ed.gov.
About ChopChop
Endorsed by the American Academy of Pediatrics, ChopChop, The Fun Cooking Magazine for Families, is a nonprofit quarterly food magazine. Published by ChopChopKids, Inc, a 501(c)(3), ChopChop's mission is to inspire and teach kids to cook and eat real food with their families. Its vision is to reduce and prevent childhood obesity. ChopChop was named the 2013 Publication of the Year by the culinary industry's James Beard Foundation, and is the only non-profit publication to win the award. ChopChop is also the recipient of a prestigious gold award from the Parents' Choice Foundation, the nation's oldest nonprofit guide to quality children's media and toys. To learn more about ChopChop's mission, and to support the organization by subscribing to ChopChop Magazine or by donating to its cause, please visit http://www.chopchopmag.org. Follow ChopChop on Twitter at @ChopChopMag, on Facebook at facebook.com/ChopChopMagazine or on Pinterest at pinterest/ChopChopMag.
About Let's Talk About Food
An organization aimed at increasing the level of public literacy about all aspects of our food system, Let's Talk About Food (LTAF) is dedicated to changing the way we eat, grow, cook, buy, and sell food in our country. LTAF presents educational events in partnership with universities, museums, libraries, hospitals, cities and towns, cooking schools, trade organizations, science festivals and a host of other organizations with the goal of creating a new generation of "Food Thinkers." Its signature annual event is the Let's Talk About Food Festival, a food educational festival which occurs each fall in Boston, MA and is presented in conjunction with The Boston Globe and Whole Foods Market.