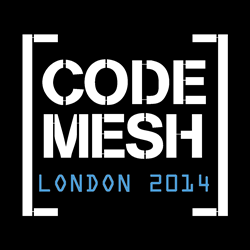 Over 50 speakers, including representatives of companies such as Cisco, Google, Barclays, Bayard Rock and GameSys will share case studies and success stories on their usage of non-mainstream technologies.
London, UK (PRWEB UK) 23 September 2014
Due to audiences' increased interest in non mainstream programming languages, libraries, operating systems and technologies, this year Code Mesh will take place in a more spacious venue at the ILEC Conference Centre in London, giving the event room for further expansion.
Among over 50 speakers, you will find experts such as author and Ruby guru Chad Fowler, creator of F# Don Syme, Scala expert Jessica Kerr, BDD originator Dan North, creator and original developer of MySQL Michael "Monty" Widenius, Haskell and QuickCheck co-inventor John Hughes, Typesafe chief architect Viktor Klang, co-creators of Erlang Robert Virding and Joe Armstrong, creator of Typed Clojure Ambrose Bonnaire-Sergeant, Catnip IDE creator Bodil Stokke, developer advocate for Google+ Ian Barber and many more.
Representatives of companies such as Cisco, Google, Barclays, Bayard Rock and GameSys will share case studies and success stories. Code Mesh will give its audience a chance to find out how non-mainstream technologies are used by the gaming industry, banks and financial institutions; to look at database innovations such as cloud databases, NoSQL, NewSQL or graph databases; to find out how to move data cheaply and efficiently and to scale linearly with demand; to find out more about hardware infrastructures, from embedded to super computers. The list of speakers and the programme can be found on the conference website.
"2014 has been an amazing year for technologies previously represented at Code Mesh, many of which are gaining recognition and becoming mainstream. The increased interest we're seeing for the conference itself certifies that. Every year we try to bring together as many interesting and inspiring people as possible and then watch the magic happen. Many amazing ideas have come out of the interactions at the conference in 2013. We like to give our attendants as many chances to mingle and interact and learn from creators and inventors." said Francesco Cesarini, organiser of Code Mesh and Founder of Erlang Solutions.
About Code Mesh:
Code Mesh, the Alternative Programming Conference, focuses on promoting useful non-mainstream technologies to the software industry. The underlying theme is "the right tool for the job", as opposed to automatically choosing the tool at hand. By bringing together users and inventors of different languages and technologies (new and old), speakers will get the opportunity to inspire, to share experience, and to increase insight. Via presentations and case studies, we aim to raise awareness and extend the knowledge of all participants, mainstream and non-main stream users alike.
About Erlang Solutions:
Erlang Solutions provides businesses true scalability through the creation, integration, delivery and lifetime support of products and services based on the Erlang programming language. Our customers obtain all the benefits of the speed to market, low lifetime cost and extreme reliability offered by Erlang-based solutions. Erlang Solutions has a special focus on Erlang and the Erlang community, offering industry-leading research, development, training and worldwide support. We have extensive experience in industries such as telecom, financial services, gaming, advertising, new media and automotive. Erlang Solutions has offices in London, Stockholm, Krakow, Budapest, Buenos Aires, Seattle, Copenhagen, Aarhus and Zurich.