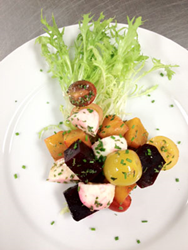 Impeccable Taste Catering was amazing. From setting up, serving our guests, and through to clean-up...
Toronto Ontario (PRWEB) September 22, 2014
Why does the produce at the grocery store smell and look delicious, but have very little taste at all? Rodney Kaufman, chief executive officer and executive chef at Impeccable Taste Catering, a catering company in Toronto, advises the reason is because it's not local produce. In fact, most fruit and vegetables transported from California are picked green, and then ripen as they make their way across the country to your local grocery store.
Chef Kaufman loves to use fresh produce in as many corporate catering dishes as possible.
"The task of local produce far exceeds imports. We use local produce, such as peaches, whenever it's in season."
Here are five reasons Chef Kaufman likes to buy local produce.
1) Taste - Fruits and vegetables that have not ripened on the vine, or plant, do not benefit from the nutrients – both from the sun and the soil – as those locally grown does. This greatly impacts the taste, and is why much of imported produce has very little taste.
2) Less travel - Imported fruit must travel thousands of miles from the West Coast of the U.S. to Ontario. This increases the cost of the produce, and harms the environment; the closer the grower, the less distance. This in turn creates less pollution from fewer vehicles on the road.
3) Knowledge is power - When purchasing fruit and vegetables from the local market, the farmer or grower is usually on hand to answer any questions. What pesticides, if any, are used? How long does the produce last? What is the best way of keeping them fresh? Grocery stores do not have this luxury.
4) Cost - Fruits and vegetables bought locally cost less. There is less overhead for a farmer to sell produce at the market, plus they do not have the shipping costs as a grocery store does. For example, a baker's dozen of corn could cost $8 at your local store; the same amount could be as high as $12 or $13 in a supermarket.
5) Nutrition - Not only does local fruit and vegetables cost less, and taste better, they are more healthy as well. As the produce has had the time to soak up all the nutrients it needs to grow, it then holds that nutrition when eaten.
Buying local also invests money into the surrounding businesses; community is important, and when the result is a basket full of delicious corn, peaches, grapes, apples or pears; everyone wins!
One of Rodney's favourite recipes is grilled tuna with peach and cilantro salsa. "Nothing tastes better than a perfect Ontario peach," he says.
Impeccable Taste Catering offers catering services in Toronto and works with private individuals, companies in the Greater Toronto Area markets. Services include expert event planning and catering for casual lunches, seminars, conferences, product launches, release parties, corporate affairs and weddings, among other social events. Visit http://www.itcatering.ca for more details.