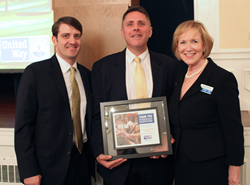 Putnam County, NY (PRWEB) September 18, 2014
A sold-out crowd of more than 300 Putnam and Westchester residents, community advocates, and volunteers supported United Way of Westchester and Putnam at the 6th annual "Best Chefs and Fine Wines" event Monday, Sept. 15. Proceeds from the event will help support United Way's health initiatives in Westchester and Putnam, such as providing healthy foods to low-income families, reducing childhood obesity, and steering teens away from risky behaviors like drug and alcohol usage.
Two dozen area restaurants served up tastings of delicious dishes, fine wines, and craft beers to attendees at Putnam County Golf Course in Mahopac. A silent auction and live music from Art Labriola entertained guests as they experienced the area's top culinary offerings.
"Best Chefs is a celebration of the finest culinary talents in our area and an opportunity to raise awareness and the necessary funds for United Way's health initiatives," said Alana Sweeny, president and CEO of United Way. "We graciously thank all of the evening's sponsors, participating restaurants, and the community for supporting us in this mission."
The evening's sponsors included AkzoNobel and PURE Insurance (Premier Sponsors); Hudson Valley Federal Credit Union (Patron Sponsor); Ace Endico, Lynlil Associates, and Pulte Group (Supporting Sponsors); Putnam County Tourism, Putnam Ridge, and Tompkins Mahopac Bank (Sustaining Sponsors); in addition to numerous sponsors at the Community level.
Immediately prior to "Best Chefs and Fine Wines," United Way recognized the important work of its board members, volunteers, and supporters at its 52nd Annual Meeting. An awards program and ceremony honored recipients of United Way's Spirit of Westchester and Putnam Awards, given in recognition of outstanding leadership in the categories of Corporate (UPS), Community (Women's Leadership Steering Committee of United Way), Volunteer (David Yawman, Esq., PepsiCo), and Partnership (The Putnam Community Service Network Partnership).
Special honor was given to Putnam Hospital Center for its continued support of United Way of Westchester and Putnam initiatives over the years. Dr. John Conlon, vice president of medical affairs, accepted the award on the hospital's behalf, which was awarded by Alana Sweeny, president and CEO of United Way.
United Way also, in partnership with the Westchester County Department of Social Services and the Urban League, recognized the 2014-2015 Ruth Taylor Scholarship Awardees, a group of nine graduate students currently pursuing degrees in social work or public health. Since the inception of the Ruth Taylor Scholarship program seven years ago, more than $93,000 has been awarded to local graduate students in these service-related fields. The honorees included Casey Baginski (Yorktown Heights), Simon Bresler (White Plains), Veronica Castro (White Plains), Deanna Frugis (Ossining), Maryam Vernon-Kalantari (Ossining), Katie O'Leary (Yorktown Heights), Marisa Ragonese (Mohegan Lake), Deborah Stromes (Somers), and Sarah Tartaglia (Rye).
About United Way of Westchester and Putnam:
For the past 52 years, United Way of Westchester and Putnam has operated with the fundamental belief that all people deserve a quality education, enough income to support a family, and opportunities for a healthy lifestyle. United Way works with agency partners, government, businesses and community leaders to solve problems that are too complex for any one entity alone. All contributions go toward improving the education, income, and health of the children, youth and families throughout Westchester and Putnam. United Way's Hudson Valley Region 2-1-1, covering Westchester and Putnam as well as Dutchess, Orange, Rockland, Sullivan and Ulster counties, answers up to 500 calls and 1,000 online inquiries per day ranging from tax, heating, and mortgage questions to childcare, basic needs, natural disaster and crisis calls. United Way of Westchester and Putnam is at 336 Central Park Ave., White Plains, NY 10606. They can be reached at 914-997-6700 or by visiting http://www.uwwp.org. Follow United Way on Facebook (http://www.facebook.com/UnitedWayWP) and Twitter (@UnitedWayWP) for the latest news and updates.