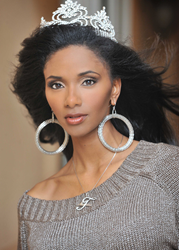 I want to use my experience as a model and actress to shed light on the darkness...
(PRWEB) September 18, 2014
Austen Williams and S.H.A.R.E. Together have partnered to bring awareness and hope to the world's second largest grossing crime: human trafficking. The two have combined forces to start conversations and raise funds by promoting 8 DAYS, a feature film that depicts a story of modern-day slavery inspired by actual events. 8 DAYS calls attention to the reality of domestic human trafficking in the United States and encourages honest conversations essential for the prevention and termination of human trafficking.
"Human trafficking is so often viewed as someone else's problem, but it is our children, our daughters, sons, sisters, mothers, fathers, and brothers that are being sold as slaves in the modern world," said Austen Williams, Mrs. America 2014. "Everyone can and should have a part in the fight. We all have different talents, gifts and abilities and if we ban together we can change the way people view this problem. We are working to equip people with the knowledge and skills to deter violence and poverty, which so often makes victims vulnerable to trafficking, and ultimately serve the least of these and put an end to one of the most horrific crimes in humanity."
S.H.A.R.E. Together partnered with After Eden Pictures to produce the 8 DAYS film (http://www.findamber.com ), in which Williams has a supporting role. All proceeds from the 8 DAYS film will go toward the building of safe houses for rescued victims of trafficking, as well as donations to various organizations that work directly with survivors, victims, and advocates.
"My part in the fight is using my voice as Mrs. America 2014 to talk about my platform, 'Shake the Shackles: Human Trafficking Awareness'," says Austen. "I want to use my experience as a model and actress to shed light on this darkness and that is why I am so glad to have been cast in the film, 8 DAYS."
The 8 DAYS film is currently having eight red carpet premieres nationwide, each of which are serving as fundraisers for both national and international trafficking organizations. 8 DAYS has already visited Los Angeles, Seattle and New York.
Upcoming Premieres:
Date City
September 18 Washington, DC
September 23 Atlanta, GA
September 25 Nashville, TN
September 30 Chicago, IL
October 2 Dallas, TX
Austen will be in attendance at each premiere and serve as a host and voice to help raise funds. She will also continue to serve as an ambassador for the film and advocate for the victims and survivors of human trafficking by continuing to promote her platform, "Shake the Shackles," at Mrs. World 2014 in November.
To join the movement of "Making Good Bolder" and to audition for Actors, Models and Talent for Christ, where Austen got her start, please visit http://www.amtcworld.org.