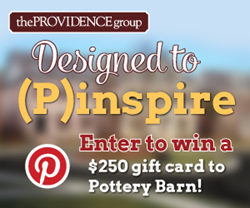 Atlanta, GA (PRWEB) September 19, 2014
mRELEVANCE, LLC is excited to announce the launch of The Providence Group of Georgia, LLC's Pinterest contest, Designed to (P)inspire. Developed to promote the grand opening of the builder's first-ever Design Center, participants are invited to create a dream home board using images of interiors, exteriors and outdoor living spaces for a chance to win a $250 Pottery Barn gift card. The contest ends October 31, and the winner will be announced on November 3, 2014.
"As Pinterest grows in popularity, we continue to work to capture its momentum for our clients," said Carol Morgan, managing partner of Marketing RELEVANCE. "The Providence Group's campaign has very specific goals including driving online traffic from Pinterest to their website."
The goals for Designed to (P)inspire, as described by Kelly Fink, vice president of marketing and online sales for The Providence Group, are to increase engagement on Pinterest, spread the awareness of the new Design Center and to highlight the luxurious design features available. A site used as a visual discovery tool, Pinterest seemed like the best outlet to accomplish these marketing tactics.
To participate, individuals must follow these simple steps:
1. Follow The Providence of Group on Pinterest.
2. Create a board named #TPGDreamHomeContest.
3. Pin images to a board that represents their dream home. Vary images to include kitchens, outdoor living spaces, family rooms and more. A little (p)inspiration can be found on The Providence Group's Inviting Interiors by Design board – this board is so inspirational that individuals may want to repin images from them!
4. Once a board including the hashtag #TPGDreamHomeContest has been created, it will be entered into the contest.
Throughout the contest, The Providence Group will share entries on its new Designed to (P)inspire board. While on Pinterest, participants can also view gorgeous images of the builder's Design Center, showcasing 5,000 square feet of interior, exterior and outdoor living design options.
For full directions and contest rules, please click here. To learn more about Pinterest campaigns, contact Marketing RELEVANCE at 770-383-3360 or visit http://www.MarketingRELEVANCE.com.
About Marketing RELEVANCE: mRELEVANCE, LLC creates relevant marketing and communications that reach audiences with focused and strategic messages. Through technology and creative content, messages are delivered to target markets to encourage customer action and interaction.
With offices in Atlanta and Chicago, mRELEVANCE can connect your company with buyers and build relevant relationships nationwide. For more information, Like us on Facebook at http://www.Facebook.com/mRELEVANCE, Follow us on Twitter at @mRELEVANCE or call 770-383-3360 or 847-259-7312.