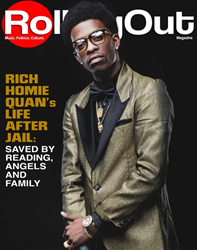 When I got to jail and once I learned how powerful reading was ...
Atlanta, GA (PRWEB) September 18, 2014
When rolling out sat down with Rich Homie Quan, who was born Dequantes Lamar, we expected a very different conversation to take place. It was a pleasant surprise to find out that the 24-year-old rapper loves to read, respects his parents, and values education. Inquisitive. Respectful of elders. Voracious reader. Those attributes will serve him well in life and as he rises in the fickle music industry.
"When I got to jail and once I learned how powerful reading was, man, I fell in love with it," says Rich Homie Quan. "I think that's why my music is so descriptive. My favorite author I fell in love with by being in jail is James Patterson. He's the best author to me."
Find out what else he said to rolling out publisher Munson Steed about his hometown, the impact of his music on young listeners, and what compels him to give back to his community.
Visit rollingout.com to read the interview in its entirety. Be sure to check out the exclusive photo shoot with celebrity photographer Corey Reese and video interview with host Munson Steed.
About rolling out Magazine:
Rolling out, the nation's largest free urban weekly, is a digital and print magazine that focuses on the black experience in response to entertainment, politics, fashion, culture, sports and lifestyle points of interest. Headquartered in Atlanta, rolling out is positioned as the voice for the African American experience, using its newspaper as a platform in the marketplace to express urgency for education reform, and to document entrepreneurial endeavors and other relevant issues in the Diaspora. For information on rolling out, please log on to rollingout.com.