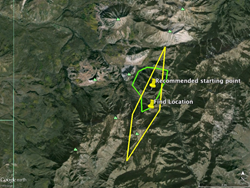 "We have data from two cell phones onboard and that's the biggest clue that is shaping the search right now," said Maj. Justin Ogden, CAP cell phone forensics expert
Abbeville, Alabama (PRWEB) September 18, 2014
Civil Air Patrol's Alabama Wing is continuing to search for a 1942 Piper Cub aircraft reported missing Tuesday. The search is focused on a 40-square-mile area on the eastern side of Henry County, Alabama -- a search grid identified through CAP'S cell phone forensics.
"We have data from two cell phones onboard, and that's the biggest clue that is shaping the search right now," said Maj. Justin Ogden, head of CAP's cell phone forensics team.
"The data provides really good information about the location," Ogden said. "All data suddenly stops just before 11 a.m. Central."
The vintage olive drab military observation plane, with two men aboard, was reported missing Tuesday after failing to return to Headland, Alabama, after a leisure flight to Eufaula, some 40 miles away. The Piper J3C-65, which left Headland about 10 a.m. Tuesday, failed to return as scheduled about 2 p.m.
At the tip of the search grid are two bodies of water – the Chattahoochee River and Lake Eufaula. The Georgia Department of Natural Resources Law Enforcement Division has photographed structures at the bottoms of both locations, and those side scan sonar images are under review, said Maj. Harvey Yarborough, mission incident commander and the Alabama Wing's emergency services director.
Radar records have not provided any definitive clues about the Piper, and while an emergency locator transmitter was on board, no signal has been received, Yarborough said.
Since the search began Tuesday evening, the Alabama Wing has made 11 flights. Yarborough described the visual searches as "intricate."
On the ground, the wing has also conducted door-to-door follow-ups of leads provided by the public. To date, 25 CAP members have contributed to the search efforts.
Numerous other agencies and first responders, including the Alabama Emergency Management Agency, the Dale and Henry County sheriffs' offices and Georgia state troopers, are also participating in the search.
Ogden and his fellow CAP cell phone forensics expert, Col. Brian Ready of the Arizona Wing, have been involved in more than 500 searches since 2006. In December they helped guide searchers to a family of six stranded in subzero temperatures in the snow in Nevada.
Civil Air Patrol, the official auxiliary of the U.S. Air Force, is a nonprofit organization with 60,000 members nationwide, operating a fleet of 550 aircraft. CAP, in its Air Force auxiliary role, performs about 85 percent of continental U.S. inland search and rescue missions as tasked by the Air Force Rescue Coordination Center and is credited by the AFRCC with saving an average of 70 lives annually. Its unpaid professionals also perform homeland security, disaster relief and drug interdiction missions at the request of federal, state and local agencies. The members play a leading role in aerospace education and serve as mentors to more than 24,000 young people currently participating in the CAP cadet programs. Performing missions for America for over 70 years, CAP will receive the Congressional Gold Medal in the coming months in honor of the heroic efforts of its World War II veterans. CAP also participates in Wreaths Across America, an initiative to remember, honor and teach about the sacrifices of U.S. military veterans. Visit http://www.gocivilairpatrol.com, http://www.capvolunteernow.com and http://www.capgoldmedal.com for more information.
Contact info: Julie DeBardelaben – jdebardelaben@capnhq.gov – 334-953-7748, ext. 250; 334-549-2224 (mobile)
Steve Cox – scox@capnhq.gov – 334-953-7748, ext. 251; 334-296-5881 (mobile)