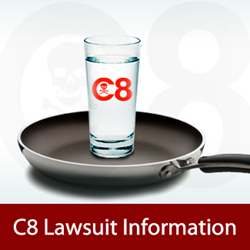 Columbus, OH (PRWEB) September 21, 2014
C8 lawsuits move forward in the U.S. District Court, Southern District of Ohio as the list of 20 possible C8 lawsuits selected for bellwether trials has been narrowed down to six, reports Wright & Schulte LLC. Court records show these six C8 lawsuits were chosen from the almost 2,500 C8 lawsuits filed that represent individuals who purportedly developed kidney cancer, thyroid disease or testicular cancer as a result of being exposed to water contaminated by the C8 chemical released from DuPont's Washington Works Plant in Parkersburg, West Virginia. (In Re: E.I. DuPont De Nemours and Company C-8 Personal Injury Litigation, MDL No. 2433)
Wright & Schulte LLC is representing numerous Ohio and West Virginia residents in C8 lawsuits and continues to speak with people who believe they have been effected by C8 water contamination. Attorney Richard W. Schulte, a founding partner with Wright & Schulte LLC, is on the Plaintiffs' Steering Committee for the federal C8 litigation. Wright & Schulte LLC encourages individuals who have suffered from health problems and live in any of the six areas designated by the C8 Science Panel as having C8 contaminated drinking water to contact one of our attorneys for a free legal evaluation by calling 1-800-399-0795 or by visiting http://www.yourlegalhelp.com.
Attorneys involved in C8 litigation first selected twenty cases from the 2500 C8 lawsuits for consideration before the courts narrowed the list down to six C8 claims. The six C8 lawsuits are representative of the nearly 2,500 lawsuits filed in state and federal courts on behalf of Ohio and West Virginia residents or their loved ones who allege that they were injured when they developed kidney cancer, testicular cancer, thyroid cancer and other health problems as a result of drinking C8 contaminated water. The C8 multidistrict litigation is pending in the U.S. District Court, Southern District of Ohio where pretrial proceedings are currently underway.
A previous C8 class action lawsuit was filed against DuPont over C8 contamination where DuPont reached a settlement agreement in 2005 with 70,000 people who consumed the contaminated C8 drinking water from the DuPont Washington Works plant in Parkersburg, West Virginia. A C8 Science Panel was created as part of the settlement and was directed to investigate possible links between exposure to the chemical and serious illnesses. Under the settlement agreement, if the C8 Science Panel discovered links between the illnesses and C8, Mid-Ohio Valley residents could file individual personal injury lawsuits against DuPont if they suffered from any of the illnesses identified by the panel as a result of being exposed to C8 contaminated water. Court documents also state that C8 is a chemical used to make the non-stick coating Teflon, which was previously manufactured at DuPont's Washington Works plant. (Leach v. E.I. Du Pont De Nemours & Co., No. 01-C-608 (W. Va. Cir. Ct.))
In September 2012, the C8 Science Panel submitted a report concluding that there were probable links between exposure to C8 contaminated drinking water and illnesses reported by Mid-Oho Valley residents including kidney cancer, testicular cancer, thyroid disease, inflammatory bowel disease, high cholesterol, and pregnancy-induced hypertension (pre-eclampsia).
[c8sciencepanel.org/prob_link.html; C8 Science Panel, October 2012]
Because of the C8 Science Panel's findings, individuals who live or work in one of the following six water districts in Ohio and West Virginia and consumed the tainted drinking water may be eligible to file a C8 claim:

City of Belpre in Washington County, Ohio
Little Hocking, Ohio
Tuppers Plains, Ohio
Village of Pomeroy, Ohio
Lubeck Public Service District, West Virginia
Mason County Public Service District, West Virginia
The Columbus Dispatch reported that residents who do not have any of the six conditions identified by the C8 panel are eligible for medical monitoring that will be paid by DuPont as a result of the class-action settlement in 2005.
[dispatch.com/content/stories/local/2014/09/08/thousands-of-c8-suits-flood-court.html, September 8, 2014]
Bellwether trials serve as test cases to help determine how strong plaintiffs' claims are in other C8 contaminated drinking water lawsuits and provide useful information on how jurors might rule in similar trials. The C8 lawsuits have common claims such as those alleged in a lawsuit filed by Wright & Schulte LLC on behalf of a Belpre, Ohio man who developed testicular cancer after drinking C8 contaminated water. (MDL No. 2433) The lawsuit purports that due to DuPont's negligence in allowing C8 to be emitted into the drinking water supply, the Ohio man has lifelong medical injuries.
About Wright & Schulte LLC
Wright & Schulte LLC, an experienced personal injury firm, is dedicated to the belief that America's legal system should work for the people. Every day, the attorneys of Wright Schulte LLC stand up for the rights of people who have been injured or wronged, and fight tirelessly to ensure that even the world's most powerful corporations take responsibility for their actions. If you're looking for a law firm that will guarantee the aggressive and personal representation you deserve, please do not hesitate to contact Wright & Schulte LLC today. Free DuPont C8 lawsuit case evaluations are available through yourlegalhelp.com, or call 1-888-399-0795.
Contact:
Wright & Schulte LLC
812 East National Road
Vandalia, Ohio 45377
1-800-399-0795
http://www.yourlegalhelp.com
Like us on Facebook
Follow us on Twitter
Join us on Google+