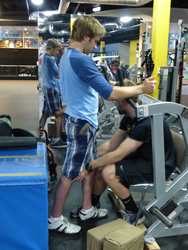 This is my time to recover," says, Bowser. "But I believe there will be a day when it will be my time to give back and help someone else reach their goal of recovery.
SAN DIEGO, CA (PRWEB) September 19, 2014
The story of Nathan Bowser is one most parents hope to never encounter. While driving along the interstate, a sudden and unexpected tornado swept through a small North Carolina town. With little time to react, Bowser remembers very little beyond merging onto the interstate and seeing a dark wall of debris climbing closer. Before he could react a tree landed on his car leaving him paralyzed from the chest down. With little resources for recovery options nearby, Bowser left all that he knew to attend the Project Walk Paralysis Recovery Center in San Diego, CA.
The doctors said he should expect little-to-no recovery and to accept a life confined to a wheelchair. After only six months of therapy at Project Walk, Bowser took his first steps. However, Bowser has exhausted his resources and is in need of donations to continue his recovery programs.
The Project Walk Recovery Foundation was created with the intent of helping fund the initiatives that matter most to Project Walk; client programs and research.
Based on The Dardzinski Method, Project Walk is the pioneer in activity-based recovery with nearly two decades of experience working with those living with paralysis. It's the Project Walk mission that has inspired the need for a foundation to help clients like Nathan.
"I am excited to be part of a rare opportunity to directly help people," says Project Walk Recovery Foundation, Chairperson Kelly McNeal. "I have a direct interest as my daughter is unable to walk due to a tumor that affected her when she was two-years-old. I understand firsthand how important it is to get them the best care possible and through this foundation we will be able to help so many."
"This is my time to recover," says, Bowser. "But I believe there will be a day when it will be my time to give back and help someone else reach their goal of recovery."
For more information or to donate to a client like Nathan, please visit http://www.ProjectWalkFoundation.org
For more information on Project Walk and its recovery options, please visit http://www.ProjectWalk.com