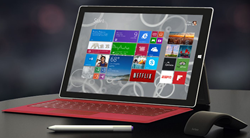 As technology expands, so must our software... our leading softwares, RollBack Rx and Drive Vaccine, work with one of the most popular devices out there, the Surface Pro 3
Blaine, WA (PRWEB) September 19, 2014
Horizon DataSys, the premier developer of RollBack Rx, announced today the launch of their two leading instant recovery softwares for the Surface Pro 3, Microsoft's next generation tablet.
As demand increases and the practical use of tablets continues to grow, our development team has worked hard to ensure our company stays with the times and our software fully works with one of the leading tablets and laptop replacements.
"As technology expands, so must our software," said Lyle Patel, CEO and president of Horizon DataSys. "It's rare to find a home without a tablet these days, but many of those devices are unprotected. That doesn't sit well with us. That's why we have dedicated our time and resources to making sure our leading softwares, RollBack Rx and Drive Vaccine, work with one of the most popular devices out there, the Surface Pro 3."
Crossing the bridge between laptop and tablet, the Surface Pro 3 comes equipped with Windows 8.1 Pro, 4th generation Intel core chips, nine hours of battery life, a multi-touch display, HD cameras, and plenty more, making it the top choice for students, businesses, and the home user.
But even this powerful tablet is not without security flaws.
RollBack Rx, the PC time machine, can fill those holes. It is the optimal data protection and restoration software. With its patented sector-mapping technology, RollBack Rx creates complete snapshots of your hard drive that can be reverted back to in seconds – even if Windows is corrupted, a virus is downloaded, and it can prevent Cryptowall and other ransomwares from taking a PC hostage.
Unlike Windows system restore, RollBack Rx fully maps the hard drive and will capture all of your PC's information and data with each snapshot – programs and software included.
Windows 8.1, which is pre-installed on all Surface Pro 3's, comes with the optional Windows reset and refresh features. When having issues with a PC, attempting to restore, refresh, or reset the problem can help, but it can also cause undesired effects such as losing programs, important data, or returning the device to its factory setting.
With RollBack Rx installed, simply restore to an earlier snapshot before the problem occurred, carrying all of your information with it.
For Surface Pro 3's being used in a public access environment such as a school, hotel, etc., then Drive Vaccine is available and it has been optimized to work with Surface Pro 3 as well. It creates a single baseline image the tablet will restore to on every reboot, logoff, scheduled timer, event task, or idle time pre-configured by the user.
Horizon DataSys Corporation is a privately held software company headquartered in Blaine, Washington which develops, publishes, and distributes branded computer software applications specializing in end-point PC management, OS integrity, and instant restore.