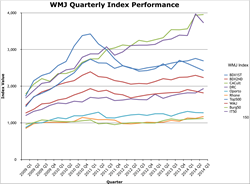 Despite the downward trend in First Growth Bordeaux, collectors' thirst for the finest Burgundies have kept the market on a high plateau.
Napa, CA (PRWEB) September 18, 2014
As the fall wine auction season heats up, the Wine Market Journal observes notable increases in its Rhone, Italian, DRC and Grand Cru Red Burgundy indices, while First Growth Bordeaux continues its downward trend. With six live auction events staged to occur before the end of the third quarter, the wine auction tracking company expects continued shift in its ten fine wine indices. The Wine Market Journal will report the third quarter's final results to industry professionals and its subscribers the first week of October.
Wally's Wine Auctions' offering of the Roy Welland Cellar grossed $6.5M in New York on September 12, making it the most notable event of the fall auction season. The impressive results of this and seven other live auctions already concluded provide preliminary insight into the new season's trends.
"Despite the downward trend in First Growth Bordeaux, collectors' thirst for the finest Burgundies have kept the market on a high plateau," says Peter Gibson, editor of Wine Market Journal. "The impressive breadth and depth of the most sought after Burgundies on offer this fall should quell the market's demand and help fill gaps in cellars left by consecutive small harvests in the Côte d'Or."
Key mid-quarter auction trends observed thus far:
Domaine de la Romanée-Conti (DRC) index is up 9.8 percent in 2014, yet down 3.4 percent in Q3.
Grand Cru Red Burgundy (Burg50) is still strong with a 4.3 percent increase in Q3 and a 11.7 percent jump since the start of the year.
The Rhone index shows remarkable strength with a 12.7 percent increase from the close of 2013 and 4.5 percent growth since the second quarter.
The Blue Chip Italian Index (IT50) is up an impressive 6.6 percent this quarter.
First Growth Bordeaux (BDX1st) index continues to slide; down 3.8 percent in Q3 and 10.4 percent since the beginning of 2014. September's auctions, however, indicate a 2.7 percent increase and a possible reversal of trend.
The Wine Market Journal's blue-chip and broad market indices, WMJ150 and Top500, reflect downward trends since the end of the second quarter; 2.7 percent and 2.5 percent respectively. Year-to date results, however, remain essentially flat, with WMJ150 down .4 percent and Top500 up .8 percent.
About Wine Market Journal:
The Wine Market Journal is the rare wine market's largest and most complete source of auction valuation information. With auction results dating back to 1997, the Wine Market Journal's website and database are employed by virtually all auction houses, investors and serious collectors.
The Wine Market Journal's parent company, First Growth Technologies, Inc., provides a full suite of appraisal and cellar services for wine collectors and industry partners through its CellarPros brand. With a nationwide presence, CellarPros offers the most extensive and thorough appraisal, management, logistics and brokerage services to private collectors.