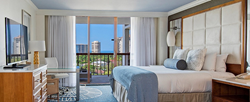 In addition to the complete new design look of the rooms, the property enhancements include furnishing each guest room balcony to elevate the in-room experience, and customizing each of the three pools to bring a variety of aquatic offerings
Naples, FL (PRWEB) September 22, 2014
Northwood Hospitality announces that the Waldorf Astoria Naples has been transitioned to the independently branded Naples Grande Beach Resort. The property is currently undergoing an $18 million dollar renovation and redesign of its 474 guestrooms, beach and common areas. While the resort is operational during renovations, it is expected that the redesign will be completed in January 2015. The focus of the renovations has been aimed at enhancing the resorts features and positioning it to become a premier choice of meeting venues in the southeast United States. The hotel was purchased by Northwood Hospitality in October 2013 and they worked with Hilton to operate under the Waldorf Astoria brand up until the transition.
Naples Grande Beach Resort offers guestrooms with ocean views, over 83,000 square feet of flexible event space, three heated outdoor pools with a 100-foot waterslide, five-on site restaurants and bars, a full-service spa, business center and award-winning tennis courts. The property is surrounded by 200 acres of protected mangrove estuary with a series of bridges and a highly-acclaimed Rees Jones-designed private golf course just minutes from Naples Grande Beach Resort.
"In addition to the complete new design look of the rooms, the property enhancements include furnishing each guest room balcony to elevate the in-room experience, and customizing each of the three pools to bring a variety of aquatic offerings that exist alongside our secluded sunset beach," says David McCaslin, President of Northwood Hospitality. "We are excited at the opportunity to create a new independent luxury brand that will deliver the same level of luxury and innovation that has been accustomed to the Northwood portfolio."
For inquiries and reservations please visit Naples Grande online or call 844-288-2149, and feel free to follow the resort on Facebook and Twitter.
About Northwood Hospitality
Northwood Hospitality manages a growing hotel portfolio of independent luxury hotels and resorts. Properties currently under management include: The New York Palace, Revere Hotel Boston, The London West Hollywood, Cheeca Lodge & Spa, Tranquility Bay Beach House Resort, and The Marker Waterfront Resort.