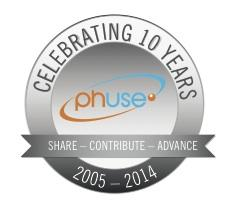 With more than 500 expected attendees this will be the biggest PhUSE annual conference ever!
London, United-Kingdom (PRWEB) September 22, 2014
PhUSE is proud to announce Dr. Pritpal Tamber, Dr. Fergus Sweeney and Dr. Lilliam Rosario as keynote speakers for their 10th annual conference which is themed "Data Transparency". Following keynotes from Dr. Ben Goldacre in 2013, Charles Sabine in 2012 and Professor Lord Winston in 2011, PhUSE again presents high-calibre speakers to talk about relevant topics for professions who are passionate about advancement of clinical information.
Dr. Pritpal Tamber is a "health explorer" and the Physician Editor of TEDMED 2013. He leads an extraordinary and eclectic group of thinkers and doers in the search for new ways to understand, create and value health, with a deep belief that the NHS needs to be radically reimagined. Pritpal is currently building an international movement to see health as more than just the absence of sickness so that its creation becomes the norm. At PhUSE, Pritpal will give insight into his view on the healthcare industry which he views as the only industry where most consumers don't really know or understand what they want.
Dr. Fergus Sweeney is Head of Inspections and Human Medicines Pharmacovigilance Division at the European Medicines Agency. The Division is responsible for pharmacovigilance, including signal detection and management and monitoring of products on the market, and provides leadership for the Agency's pharmacovigilance system. Prior to joining the Agency he worked in industry from 1982 to 1999, covering phase I-IV clinical research, pharmacovigilance and laboratory activities, primarily in the field of quality assurance. At PhUSE Dr.Fergus Sweeney will give an update of the EMA activities with focus on the data transparency initiative.
Dr. Lilliam Rosario is the Director of the Office of Computational Science (OCS) in the Office of Translational Sciences, Center for Drug Evaluation and Research. OCS leads and directly supports the modernisation of CDER's scientific review capabilities. OCS innovates tools, technologies and services specifically for drug product review and then provides these to reviewers at the right time backed up with training and support. At PhUSE Dr. Rosario will give insight how she has led the OCS to make real its motto: Better data, better tools, better decisions.
The keynotes will start every day of this year's PhUSE annual conference. With a good mix of patient centric and regulatory agency speakers, PhUSE offers great insight into the thoughts of the industry influencers who are helping to shape the industry.
The 10th PhUSE annual conference will take place October 12th to 15th at The Grange Tower Bridge Hotel in London. Visit the PhUSE Website for further information and for registration.
About PhUSE
PhUSE, Share – Contribute – Advance, provides the industry with the premier platform for creating and sharing ideas, tools and standards around data, statistical and reporting technologies; PhUSE is the world's largest non-profit, volunteer-supported, community of professionals who are passionate about advancement of clinical-biometric information. Since its inception, PhUSE has expanded from its roots as a conference for European Statistical Programmers, to a global platform for the discussion of topics encompassing the work of Clinical Data Scientists and eClinical IT professionals.