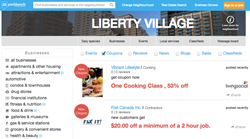 Parkbench encourages people to shop local. We provide businesses with the tools to acquire new customers.
Toronto, Ontario (PRWEB) September 19, 2014
This week brought news that Canada's largest independent daily deals companies TeamBuy and Dealfind filed for bankruptcy. To tech industry watchers, the news was a shock, but not necessarily a surprise. Traditional deal sites like TeamBuy and Dealfind have long had problems, like bad press and merchant and user discontent. Just six months old now, Parkbench.com, a Toronto-based neighbourhood website specializing in deals, events, and real estate, is reinventing the way people use coupons. Parkbench is putting control back in the hands of businesses, and facilitating a fair environment for both company and customer.
On Parkbench.com, businesses are able to offer deals, daily specials, and in-store sales directly to local consumers, who can redeem these coupons free-of-charge. Unlike traditional deal sites, Parkbench doesn't take a cut of the coupon price, so businesses don't lose any money. In fact, Parkbench charges businesses absolutely nothing to post deals and gives them full control over the deals they want to post—businesses create the deals and they decide the percentage of the discount. This allows a business to provide an offer that's economically viable to them.
"One of the main goals of Parkbench.com is to encourage people to shop local," says Parkbench CEO Grant Findlay-Shirras. "We provide businesses with the tools to acquire new customers and increase loyalty retention. This boost in revenue then flows back into the local economy to improve the quality of life for everyone in the neighbourhood." And because Parkbench's marketing platform is free, there are thousands of great deals and daily specials going on all the time. Users can take advantage of these promotions and try out a business in their neighbourhood. Afterwards, they're able to go on Parkbench.com, write about their experience, and claim a Review-pon from the business, prompting a return visit.
Unlike its competitors, Parkbench's system is fair to both businesses and consumers. Parkbench's method allows businesses to make more money and attract local, return customers, and gives the customer a chance to get deals and share their opinions of the new places they're checking out. Parkbench doesn't ask for any money upfront, so customers will never be left with a coupon they've paid for but are unable to redeem. And because we give businesses control over what kind of deals they offer, they'll never be left in the lurch.
Traditional deal sites have long been criticized because their business model actually harms the companies they claim to want to help. At Parkbench, we care about small businesses. We realize that they are the livelihood of a community, and if people shop local, a neighbourhood can't help but thrive. Parkbench's coupon system helps businesses take control of their deals and gives consumers a very real reason to shop local.
ABOUT PARKBENCH
Parkbench.com is Canada's fastest growing neighbourhood website. We curate everything going on in each neighbourhood from all the leading websites and present it to our users on one easy-to-use platform. Parkbench founders Grant Findlay-Shirras and Amanda Newman are available for interview.
Contact:
Jacob Rutka
Content and Communications Manager
Parkbench.com
jacobr(at)parkbench(dot)com