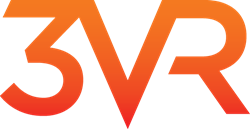 San Francisco, CA (PRWEB) September 29, 2014
3VR, the video intelligence company, today announced the debut of VisionPoint™ Extended Storage Server (ESS) ahead of the ASIS International Seminar and Exhibits in Atlanta, Georgia. The ESS software allows users to add redundancy to VisionPoint VMS or 3VR Appliances. ESS transfers video and metadata to external storage appliances, network attached storage (NAS), or a storage area network (SAN), as a scheduled or live backup. Video is then archived and can be searched locally or remotely with 3VR's OpCenter.
"The ability to expand storage capacity and continue protecting valuable video is an important part of the workflow," said Brian Lane, Director of Product Management at 3VR. "3VR's ESS allows our customers to leverage existing storage solutions to add redundancy and long-term backup capabilities without losing the ability to search through video."
3VR continues its market expansion with the growth of its manufacturer's representative program. The program expands 3VR's sales channel, providing more opportunities to reach potential end-users looking for video business intelligence solutions for real-time security and customer insights. To date, 3VR has signed nine manufacturer's representative firms across the United States and Canada:

1 Volt Associates
Global Access Marketing
Hanson Technology Solutions
Langbaum Associates
Pro Sales Agents
Security Marketing International
SVT Solutions
Tech Reps
Wilens Professional Sales
ASIS attendees can demo the VisionPoint Extended Storage Server and meet a few of the manufacturer's representatives at the 3VR booth (#1857) at the Georgia World Congress Center in Atlanta from September 29 – October 1, 2014. Visit http://www.3vr.com/asis2014 for more information.
About 3VR
Based in San Francisco, CA, 3VR provides video business intelligence solutions for real-time security and customer insights enabling organizations to protect employees, customers and assets as well as improve store operations and shopping experiences. 3VR products include hybrid network video recorders, video management and investigation software, comprehensive dashboards and reports and a robust suite of video analytics and APIs. 3VR is one of the fastest growing US-based private companies and is the standard for hundreds of global customers in Financial Services, Retail, Government, Critical Infrastructure and Hospitality. http://www.3vr.com
Contact
An Mai
3VR Inc.
415.513.4585 | mediainquiries(at)3VR(dot)com